We're Getting Mutants in the MCU - The Loop
Play Sound
"Let's get this round started!"
―Strike's pre-transformation catchphrase
"I'll strike you down at full strength!"
―Strike's pre-finisher catchphrase
Tasha Carter is the 23-year-old only daughter of the Carter Family who transforms into Kamen Rider Strike after expressing a desire to fight alongside her brothers. She later joins Genesis to help fight against Phisto.
History
Early Life
Tasha was born on August 23, 1999 as the middle child and only daughter of Travis and Makayla Carter. She was three when her father burned down their family home under the control of Zebul, but would later state to her younger brother Jacob that she barely remembered the events. Growing up, Tasha strived to become "invincible" and would later begin learning karate in-between school and spending time with her brothers. At one point, Tasha and T.J. would lose Jacob during a game of hide and seek only to find him inside of an abandoned building, unafraid of the circumstances.
By the time Tasha graduated college, she had earned a black belt in karate. Due to this, she internalized the idea that she didn't need protection from her family and wanted to keep up the idea of her being strong on her own. She would also become friends with Colin Burke while in class.
The Cult Attacks
Tasha was present when the Cult of Phisto attacked Jacob's coronation ceremony at Genome X. As civilians ran away in fear, Tasha fought against some of the Phistoids and later looked on as T.J. transformed into Kamen Rider Anima and fought the Cult's forces. One day during a hangout with her close friend Layla Quinn, the latter was captured by a criminal hired by the Cult of Phisto and Tasha handed herself over as insurance despite her older brother's objections. While captured, Tasha would question the man's motives and was told that he was doing what he was doing in order to better himself in life and that one had to be active in order to make a difference. Tasha then later defeated the man in a fight and was able to free Layla and herself. Some time afterwards during her karate class, she would unknowingly meet Berus under the name "Russel Beale", who was there to potentially use Tasha as a way to get to T.J. as Anima.
Becoming Kamen Rider Strike
During a family vacation after her mother's discharge from the hospital, Tasha witnessed Skade's attack on T.J. and attempted to fight the Cult of Phisto figurehead Lilith, but was defeated by her. During Skade's takeover of Jacob's body, Tasha began to feel helpless over her inability to help save her brother and was approached by Lilith once again, who wanted her to join the Cult in order to become stronger.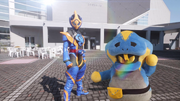 Tasha would later receive the Cage Expandriver with the Cobra Beastamp from an unknown sender, but wouldn't inform anyone of the devices. When she learned that her karate instructor Sophia Combs was involved with the Cult due to her son's declining health, Tasha attempted to stop her with words, but was later fought and defeated by Lilith once again, who told Tasha that she was too weak to help Sophia. Tasha later attempted to use the Expandriver to fight the Planarian Innemon, but failed to activate the belt and transform. She was later scolded by Jacob due to her recklessness, but Tasha walked away from him and T.J., unwilling to give up on wanting to help her instructor. After conversations with both T.J. and Lilith, Tasha realized that she wasn't as strong as she thought she was, but accepted that fact about herself, giving birth to her inner demon, Najathi.
With her new found sense of strength and resolve, Tasha successfully transformed into Kamen Rider Strike and saved her instructor alongside her inner demon while also making an enemy out of Spencer Graham. Tasha would later receive other Beastamps from Ryder Marks that turned Najathi into weaponry for Tasha and was even able to defeat Spencer one-on-one when he became the Advanced Phase Planarian Innemon.
During the revival of Demolon, Tasha and her allies worked alongside the Knights of Talestia to prevent the demon's plans to destroy the world. The group would also encounter SOAR scientist James Douglas, who time travelled to the modern day to reconnect with his now elderly son Brian.
As part of the plans to beat Demolon, Tasha joined Saurex, Jacob, Lance, Noel, and Luceo in the future. They met an elderly Ryder there who allowed the six to change into previous riders, with Tasha becoming Space Knight, Date Knight, and Kamen Rider Amazon. Upon returning to the present, Tasha fought alongside Kamen Rider Jinken against the Eidolons.
Taking the Fight to the Cult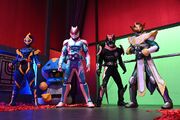 While dealing with her mother's objections to Tasha fighting as a rider, Tasha and her brothers raided the Cult of Phisto's base alongside members of Genome X's Xorcist Squad. After taking down the Cult, Aidan Morgan would convince Makayla of the importance of Tasha fighting as a rider.
Genesis Offering
After the Cult's generals were scattered, Tasha was approached by Javon Mosley, who wanted her to help him get through to Berus so that the latter could apologize for his actions against the former Russel Beale. Tasha was able to get the two to meet, but Javon was unfortunately turned into a Phistian by Thanatos and Tasha was forced to fight the now out of control Russel before T.J. was able to split him from his Innemon form. Tasha was then approached by Russel the next day to help him convince Lilith to give up her blind allegiance to Phisto. While Tasha was unable to convince her, she was able to finally begin defeating Lilith in battles.
Being invited to the Burke family's home, Tasha was surprised to see their basement glowing, but decided not to enter yet and went home. Days later, she would enter the basement and would discover that the Burke family worked for an organization named Genesis and were the ones who sent her the Expandriver and wanted her to join them as they told her that she could not trust Genome X. Tasha refused to join, but willingly did work for them when asked. She was then present when Aidan was put into a coma by Thanatos before the Cultist defeated her, T.J., and Saurex effortlessly.
Conflicted
After the incident with Aidan, Tasha's trust in Genome X was shaken and she began to consider joining Genesis. During this time, she would also help Russel gain a stay at the Carter home after he was pushed away by Lilith. After T.J. and Saurex gained the Roller Beastamp, Tasha quickly deduced that Genesis had sent them the stamp and began to distrust them as well. She was soon after introduced to Brittany Marks, the leader of Genesis and Ryder's estranged sister.
After dealing with the threat of Kamen Rider Beelze and learning that she had Phisto cells within her via her father, Tasha was forced to deal with the out of control Demon Animalia, with the situation forcing her to reveal the existence of Genesis to her family. After T.J. and Saurex overcame their issues, Tasha reunited Ryder and Brittany, telling Ryder that it was best that Genesis and Genome X worked together to battle Phisto. While this attempt to fix their relationship was unsuccessful, Tasha revealed to Brittany that she would join Genesis in order to fight Phisto.
Personality
Similar to her two brothers, Tasha is a very calm and kind person, although she seems to have a shorter amount of tolerance towards people and can be very blunt with how she feels, being easily annoyed with her father's attempts to go viral. She also prefers to be self reliant and is unafraid to put herself in danger, shown when she helped T.J. fight of some Phistoids and when she willingly gave herself up to Nathan Russel as his hostage only to later use her martial art skills to disarm and knock out the older man when given the chance. She also is very loyal to her family and questioned why T.J. fights as a rider to protect the world if it costs them their family life. She also questioned the relation between strength and justice.
Due to her becoming a black belt in karate, Tasha developed the belief that she was strong enough to handle anything and was unhappy when being called weak or when her family tries to keep her away from fighting. This belief in herself caused her to turn a blind eye to her weaknesses and was unable to realize them. After receiving the Expandriver from Genesis, Tasha was finally able to confront and accept her weaknesses, giving birth to Najathi and strengthening her own resolve in the process. After becoming Strike, Tasha would run head-on into battles without much thought, but doesn't take her role as a rider for granted, being very prideful in her part of protecting the world.
Powers and Abilities
Powers
Phisto's Offspring Physiology: As a child of the man who is infused with Phisto's DNA, Tasha can safely transform into a Kamen Rider using the Beastamp system.
Inner Demon Control: Like her brothers, Tasha possesses the ability to keep her inner devil, Najathi, under control. This enables him to use the Cage Expandriver and allows Najathi to become a corporeal demon.
Abilities
Expert Martial Artist: Tasha holds a black-belt in karate, showcasing masterful proficiency of her skills against an armed civilian, several superhuman-level Phistoids, an Advanced Phase Innemon, and several masked home invaders.
Weaknesses
Doubt: Because Najathi is the manifestation of Tasha's weakness after she confronts it, when Tasha has doubts about her actions, the two become out of sync. As a result, Strike becomes unable to use Najathi's Genome forms or perform finishers and may be forced out of her transformation if she attempts to do so.
Forms
Equipment
Relationships
Family
Allies
Najathi: Tasha's inner demon manifested from her weakness. She shows a fondness for her and affectionately calls her "Naja".
Russel Beale/Berus: Former enemies during his time as a cultist, Berus would first meet Tasha after he infiltrated her karate class, with the two becoming fast friends. Tasha would later help try to reconnect Russel to his old friend Javon Mosley before Javon was turned into a Phistian. After Berus returned to being Russel Beale, Tasha continued his friendship with him and even got him to take up the spare room in the Carter home.
Enemies
Lilith: While she herself is very found of Tasha and wants to recruit her into the Cult of Phisto, Tasha had no love for Lilith, immediately attempting to fight her on their first two encounters. After Tasha became friends with Russel, she continuously tried to convince Lilith to give up her loyalty to Phisto and begin living a normal life for Russel's sake, but Lilith keeps denying the opportunity as all she wanted in life was to follow Phisto.
Phisto: The being who Tasha vowed to stop as a member of Genesis. She later learned that she was genetically a descendent of Phisto via her father.
Others
Skade/Kamen Rider Nocturn: While barely interacting, even when Skade pretended to be Jacob, Tasha quickly showed she wasn't the biggest fan of Skade and would openly threaten him when the opportunity presented itself. Humorously, Skade has a soft spot for Tasha's cooking and even protected her from Thanatos because of it.
Spencer Graham: Upon foiling his plans using the Planarian Innemon, Tasha made an archenemy out of Spencer. The rivalry became two-sided after Spencer directly came to Tasha's campus in order to get his revenge on her.
Behind the Scenes
Portrayal
Tasha is portrayed by Amandla Stenberg. As a child, she is portrayed by Jordyn Raya James.
Etymology
Strike, in this case, is a homograph for both a snake biting someone and for a physical hit from another person.
Notes
Unlike her original counterpart, Tasha is the middle child of the Carter family rather than her second brother.
Strike's cobra motif, along with Diurn & Nocturn's bat motif and Aranea's spider motif, is part of the recurring bat/cobra/spider trio in the Kamen Rider franchise, a tribute to the

first SOAR monster

to be upgraded and revived.
Parts of Strike's mask are the overhead view of a cobra. The "eyes" are the pattern on the hood of the snake, the "mouth" being the snake's eyes and the snake's tail forming a small ladder braid of "hair" on Strike's head.
Appearances
See also

Kamen Rider Animalia
Kamen Riders
T.J. Carter - Saurex - Jacob Carter - Skade - Tasha Carter - Aidan Morgan - Thanatos - Travis Carter - Zebul - Colin Burke - Russel Beale - Lili Theodore - Arthro Nest - Ryder Marks
Movie/Special-exclusive: Kamen Rider Beyonder (James & Brian Douglas) - Chris Meran - Soldemo - Kamen Rider Sibeast
Clone Riders: Lance Blaze (

One

,

V1

,

Accel

), Noel Knight (

ZO

,

Mighty

,

Spade

), Luceo (

Evolve

,

Action

, Zerone), Saurex (

RX

,

Quasar

,

Prophet

), Jacob Carter (

Chiro

,

Meteor

,

Long

), Tasha Carter (

Space

,

Date

, Amazon)
Gear
Transformation Gear
Emboss Wildriver - Dual Unitedriver - Cage Expandriver - Arthro Driver - Beelze Driver - Hive Apidriver - Aerondriver - Dynas Driver - Rolling Rage Beastamp - Zygotes Driver - Migotes Driver
Beastamp-related
Beastamps - Beastamp Holder - Beastamp Carrier
Normal Weapons
Wild Blastchopper - Cell Blaster - Wild Smashammer - Cracking Rex Shield - Roller Beastamp - Nocturn Saber - Diurn Blaster - Stinger Kunai - Rolling Rage Beastamp -

Hannack Fangs
Genome/Genomerge Arsenals
Strike: Najathi (Peacock, Turtle, Shoebill)
(Max) Arthro: One Hinders - Mole Wildrill - Joker Aeronator - X Stinger - R Scratchers
Dynas: Komodo Dragon Flamer - Crocodile Driller - Gorilla Smasher
Vehicles
Saurex (Ptera, Jackal)
Allies
Eon Museum: Makayla Carter - Henry Lewis - Russel Beale
Demons:
Najathi
Legend Riders: Henry Wells - Lance Blaze - Noel Knight - Alistair Bolton - Caesar Landon - Shino Valia - Jestro - Myla - Luceo - Rita Emerson - Tyler Emerson
Others:
Ryder Marks (2072)
Genome X
Director: Vance Watts
Commanders: John Xavier - "John Xavier" - Aidan Morgan
Squad Leaders: Jacob Carter - Henry Ashton
Others: Ryder Marks - Diana Murray
Genesis
Leader: Brittany Marks
Burke Family: Colin Burke - Gregory Burke - Eliza Burke
Other Members: Tasha Carter - Lili Theodore - Russel Beale -

Arthro Squad
DRE Division
Director:

Gabriel Walsh
Researchers: Jonathan Marks
Military: Henry Lewis - Vance Watts
Others: Jackson Ritter
Cult of Phisto
Demons:
Phisto
Notable Members: Vance Watts - Thanatos - Berus - Lilith - Spencer Graham - William Spencer - Chameleon Innemon
Innemons
Tyranno Innemon - Mammoth Innemon - Mantis Innemon - Megalo Innemon - Gorilla Innemon - Lion Innemon - Squid Innemon - Wolf Innemon - Kangaroo Innemon - Cheetah Innemon - Brachio Innemon - Planarian Innemon - Chameleon Innemon - Smilodon Innemon - Queen Bee Innemon - Hammerhead Innemon - Elephant Innemon - Anomalocaris Innemon - Rafflesia Innemon
Footsoldiers: Phistoids
Phistians: Normal - Evolved - Omega
Others: Phisterror - Innemon Clones
Innemon Contract Holders
Adam Dixon - Aidan Morgan - Ollie Hunt - Daniel Young - Layla Quinn - Leon Taylor - William Spencer - Phineas Yaeger - Scammer Group - Spencer Graham - Sophia Combs -

Kristina May

-

Stephen Fischer
Phistian Hosts
Unnamed Excavator - Unnamed Cult of Phisto Follower - Javon Mosley - Kayla Avery - Olivia Sawyer - Unnamed man - Unnamed child
SOAR
Demolon
Eidolon
Himiko Eidolon

-

Khufu Eidolon

-

Edison Eidolon

-

Leonidas Eidolon
Demon Rider Corps
Soar Rider One - Soar Rider Two - Venom Knight - Eternal Knight - Sorcerer Knight - Duke Knight - Masked Rider Four - Mask Knight
Others
SOAR Executive
View • Edit