"I cannot ignore your evil deeds."
―Taki's catchphrase when confronting an "evil" character.
"The seal is complete! (

封魔完了!

Fūma Kanryō!

?

)"
―Taki's post-mortem catchphrase
"Like a creature in the night, I strike in the shadows! (

夜生き物のように、影を打ちつける!

Yoru ikimono no yō ni, kage o uchitsukeru!

?

)"
―Kamen Rider Taki's catchphrase
"Dragon Ascent! (

画竜点睛

Garyō Tensei!

?

)"
―Taki's transformation call into MugenryuTaki
"There will be no limits for me! (

私は限界はない!

Watashi wa genkai wa nai!

?

)"
―TakiBeyond's catchphrase
Taki (タキ, Taki? can be also written as 多喜) is a character originating from the Soul series and the main protagonist of Taki Gaiden: The Kunoichi Who Leapt Through Time. Prior to Taki Gaiden, she is the guest character and female lead of Metroid: Kamen Rider Generations Vol. 3: Fates Intertwined.
Due to unknown circumstances, both Taki and Natsu were sent 400 years into future, where Soul Edge no longer exists and Japan at the time was still during the Heisei era. She is dragged into the battle between the Kamen Riders and the Space Demon Clan Kamui Tribe, and subsequently the Japanese civil war, and lastly the conflict between the Go-Ongers and Foundation X

. Following the merging of the two parallel Earths, Taki rekindles her objective in destroying Soul Edge in the past after meeting her future daughter. After learning that her original timeline was rebooted, she becomes an anomaly to the new timeline and subsequently encountered an alternate timeline version of herself, but still extended her mission in the new timeline to destroy the cursed sword. In addition, Taki would also be involved in the ensuing conflict between Kamen Riders Zi-O and Geiz and the Time Jackers and their Another Riders.
She encounters future self, who entrusts her the Beyondriver after her sealed Ridewatch awakens as the Taki Miridewatch, she gains the ability to transform into Kamen Rider Taki (仮面ライダータキ, Kamen Raidā Taki?).
After the World of Soulcalibur's timeline is fixed, Taki stays in the Reiwa era, where she is married with Goro and gave birth to Fubuki, their daughter. At some point, Taki would establish a new Fu-Ma clan faction in the Reiwa era, the Yanase Faction, where she is currently the clan matriarch.
In Kamen Rider Kenzan Gaiden: Legend of Snow White, she mentors Ren Akamichi, while uncovering secrets involving the Great Book, at the same time one of the founding members of the Rider Garrison. In addition to observing Touma Kamiyama, Taki is also drawn to the presence of various Ultramen and gets acquainted with an alternate Ultraman Tiga who gave his power to fuse with Ren to become KenzanTiga.
In Kamen Rider Zi-O NEXT TIME: Kamen Rider Taki, Final Chapter feat. Ultraman Tiga, Ultraman Dyna, & Ultraman Gaia, Taki would return back to the World of Soulcalibur in order to tie up loose ends with the Soul blades, where she gathers the powers of six female Riders (Nadeshiko, Mage, Marika, Poppy, Tsukuyomi, and Valkyrie) and three Giants of Light (Tiga, Dyna, and Gaia) to become Kamen Rider TakiBeyond (仮面ライダータキビヨンド, Kamen Raidā Taki Biyondo?), at the expense of becoming a second Ohma Zi-O, of which she accepts her destiny of becoming Sougo's future successor as the Queen of Time and Space all for the sake of destroying Soul Edge and Soul Calibur once and for all.
History
Stumbling 400 Years into the Future
The Kunoichi Who Leapt Through Time
5 Years Later...
Other Events
Personality
As a ninja, Taki puts her mission above everything else. She will end evil through her own ways. She seems to show concern to some people who are connected with Soul Edge (i.e. Sophitia) and warns them the dangers of the evil blade. She can be emotionless and serious, as a ninja should be. She easily sees through deceptions and will use the best attack to defeat her opponent.
Taki truly cares for her apprentice, Natsu, having chosen to take an active part in raising her due to her own perceived failure in stopping Arahabaki in time. However, she has mentally prepared herself to 'do what's necessary' if the seal containing the demon within Natsu were ever broken.
After meeting with Goro Izumi, she's very cold towards him, despite his arrogant and narcissistic bravado. She ends up commandeering his mansion for her own benefit. Despite her stern and ruthless personality, Taki is not entirely bereft of kindness and empathy, she cares for her allies and loved ones alike aside from her student. She even shows geniune concern towards Goro, especially when he recklessly fought one of the Kamui Tribe's demons to protect his precious technology. Despite her lack of interest to forms of romantic relationship, she eventually becomes more romantically involved with him and eventually in the future, getting married and gave birth to a child due to her meeting with their future daughter. Taki also cares for her future daughter's well-being despite their awkward start.
A running gag throughout the story is Taki's experience with culture shock after she and Natsu ended 410 years into the future, her unfamiliarity with the modern era is explored thoroughly. While her disciple Natsu, is very quick to adapt into the present day, Taki is taking time to blend in the current society and usually forces herself to ask help from other people such as Goro and Anzu. Overtime, Taki eventually learns much more in adapting and getting experience in the modern era.
During Taki Gaiden: The Kunoichi Who Leapt Through Time, Taki comes to doubt of her own existence in the past after encountering the other Taki of 1586; where she shows a self-deprecating nature facing turmoil and confusion from within. Regardless of these flaws, her determination to return from the past also stems from rekindling her objective in destroying Soul Edge. As the story progresses, Taki easily adapts with modern technology becoming more versatile and resourceful.
After reigniting her goal in destroying Soul Edge, Taki is more willing to protect her allies and loved ones in the present to prevent them from being drawn to the cursed sword, the same thing applies to Soul Calibur. When Geiz Myokoin becomes focused in seeking after the spirit sword and use it to kill Sougo Tokiwa before he becomes Ohma Zi-O, Taki is determined to stop him from doing so before Geiz might eventually become a puppet to the spirit sword. Also, Taki is more willing to go in extreme lengths to eradicate both cursed and spirit swords at all costs, even if becoming a new Ohma Zi-O in the process, to which she willingly accepts that fate, while acknowledging the fact that her methods will make her just as brutal and ruthless as Ohma Zi-O, something that Iska Acht calls her out for after obtaining the TakiBeyond Miridewatch. Kamen Rider Zi-O NEXT TIME: Kamen Rider Taki, Final Chapter feat. Ultraman Tiga, Ultraman Dyna, & Ultraman Gaia
Though she is mostly focused in destroying Soul Edge, Taki is willing to drag herself into the battle between Zi-O and Geiz against the Time Jackers and their Another Riders. When asked of her involvement, Taki will simply reply that she is just a "wildcard" in that she places herself in neutral ground between opposing parties. She is more willing to form uneasy alliances with enemies (i.e., the Time Jackers) in case facing an even bigger threat. Despte willing to shoulder the burden of destroying Soul Edge alone, Taki is more willing to turn to her closest allies in the past and present whe she need the most.
In her later appearances, Taki remains as a mature woman and acts as a mentor to succeeding Kamen Riders, especially Ren Akamichi; while she maintains her usual stoic and cold exterior, her kindness is reserved mostly to her family and friends in the present day.
As Kamen Rider Taki, upon entering the battle she will proclaim, "Like a creature in the night, I strike in the shadows!" (夜生き物のように、影を打ちつける!, Yoru ikimono no yō ni, kage o uchitsukeru!?)
Family
Powers And Abilities
Powers
Demon Sealing: Being trained by the Fu-Ma ninja clan, Taki's defining abilities are her ability to seal away demonic beings. She can also contain demons in inanimate objects or even trinkets such as Fullbottles and Blank Ridewatches.
Exorcism: Additionally, Taki is capable of expelling supernatural beings from human hosts; this also applies even towards Imagins.
Ridewatch manipulation: After being first exposed to the Ridewatches, starting with the Huntress Ridewatch, and later by gathering the G7 Icarus XYZ and Type-S Ridewatches; which are needed to form the GalaxyArmor, the aforementioned watches are bonded to Taki, which grants her the ability to manipulate the Ridewatches to her will.
Legend Riders' Powers: Taki can tap into the powers of Legend Riders by pressing their Ridewatches, or insert the watches on the Beyondriver.

Ryuki: Summons Dragreder to incinerate her targets.
Faiz: When used in tandem with the Bike Ridewatch, Taki turns the Ride Striker into the Auto Vajin, Kamen Rider Faiz's own motorcycle which transforms from Vehicle Mode to Battle Mode, acting as a support assist for Taki during battle. And as demonstrated by Kamen Rider Decade as Decade Faiz, Taki can take out the Faiz Edge off Auto Vajin's right shoulder and use it as a weapon.
Drive: Summons the Tridoron as a means of alternative transport, which also comes equipped with the Ride Booster Set.
Cronus: Allows Taki to emulate a variation of Kamen Rider Cronus's Reset, which rewinds the flow of time. This is potent enough to negate White Woz's ability to manipulate future events, erasing the written event on his notebook. Alternately, Taki can also use Cronus's Pause to freeze time. The Cronus Ridewatch also allows Taki to override Another World Cronus's pause due to the fact two Riders sharing the same power cannot coexist at the same time.
Horobi: Causes Mekki-Maru's blades to manifest a chain whip resembling the Acid Analyze.
Durendal: Allows Taki to replicate the Jikokuken Kaiji's ability to erase time even without the need to summon the Seiken at all.

Sealing Symbols: Taki can invoke bright pink sealing symbols around her body as part of awakening Mekki-Maru to its true potential. Later on, she also gains the "Kamen" (

カメン

?

) logo from Zi-O and Geiz's helmets on her forehead to differentiate herself from her New Timeline counterpart.
Time Manipulation: Sometime after being exposed to the Ridewatches, Taki regains the ability to stop and/or slow time to her will. However, her version of this ability is somewhat flawed and inferior to the Time Jackers' time manipulation powers. On a couple of side notes, she can also do this with the aforementioned Cronus Ridewatch. Wind Priestess ~A.D. 1589~ Later, she gains proper time manipulation powers as a reward from Ohma Zi-O for defeating him after she is recognized by him as a worthy adversary.

Time Freeze Protection: After a long period of intense training and simultaneous mastery of Ridewatches, Taki becomes unaffected by the Time Jackers' ability to stop time, including that of Swartz. A feat that's highly impossible to achieve by any normal human being, let alone sheer willpower itself whereas Sougo and Geiz can still feel the Time Jackers' presence even when they freeze time. Taki can counteract the Time Jackers' time stoppage by instantly canceling them. This is further reinforced after obtaining the Mugenryu Miridewatch.

Another Rider Detection: Taki can sense disturbances caused by Another Riders even from greater distances. Making it easier for Sougo and Geiz to track the Another Rider she sensed. However, this is only limited to Another Riders whose appearance and powers are based on past Kamen Riders (this also applies to Showa Rider-based Another Riders). It doesn't work on Another Riders that corresponds to future Kamen Riders.
Knowledge of Showa Kamen Riders: Taki is one of the few people (the others being Tsukasa Kadoya, Samus Aran, and Goro Izumi) who possess knowledge of the Showa Riders. It is likely she has learned each of the Riders presumably from Tsukasa himself as Geiz and Black Woz's knowledge of past Riders are only limited to Heisei Kamen Riders. This allows her to inform Sougo and the others of an Another Rider that took the appearance of a Showa Rider along with the original Rider itself, and at the same time had installed an app in her Ride Smapho containing archived data that included the Showa Riders.
Shadow Binding: Taki can pin her opponent's shadow using any bladed weapon to render them immobilized.
Temporal Protection: Taki is unaffected to the changes of the timeline caused by both her own actions and Sougo's ordeals. In addition, Taki is completely immune to the timeline alteration caused by Hiryu Kakogawa, and later when she resets both the respective timelines of the World of Kamen Rider and World of Soulcalibur.
Time Alteration Immunity: For some reasons, Taki can exist independently outside of time and is unaffected by changes in the timeline, despite the fact she is now an anomaly to her own world as a result of it being reset into a new continuity. Her status as an anomaly in the World of Soulcalibur is now removed following her new timeline counterpart assimilating with her; and can return back between the past and present as desired.
Existential Singularity: Upon acquiring the TakiBeyond Miridewatch, it bestows Taki a power that bypasses the rules of reality. This essentially turns her into a living anomaly, allowing her to retain abilities related to the above such as immunity to space-time irregularities, as well as corruption from Soul Edge and Soul Calibur.

Reality Manipulation (never used): According to Ohma Zi-O, Taki can now have the ability to manipulate reality into her liking so long as she uses the TakiBeyond Miridewatch, and said power allows her to erase the cursed and spirit swords of their existence. However, Taki chooses not to use this power out of fear of becoming a second Ohma Zi-O and insistence to destroy the two Soul blades in her own terms.

Gaia Library Access: Similar to Woz in Kamen Rider Heisei Generations FOREVER, Taki is able to access a makeshift Gaia Library throughout Kenzan Gaiden.
Fullbottles Purification: Taki also possesses a unique ability to instantly purify a Full Bottle that receives either Smash or youkai hybrid materials to make them compatible with Goro's Build Driver. Unlike Misora Isurugi's ability that requires her purifying ability through the microwave incubator Sento Kiryu created, Taki makes use of her demon-sealing techniques to exorcise even evil spirits that is still intact inside of the bottle.
Tengen Toppa Evolution: This is Taki's super-powered ability once tapping to the Kris Naga's magical power to its fullest. Being a highly experienced ninja, Taki has to go undergo spiritual training to tap to the Kris Naga's full power in order to unlock this power, as well as a mutual connection to an individual because of Kris Naga's ability to respond to the feelings of the wielder. In this mode, Taki undergoes in a physical transformation, her hair is immediately let loosed from her usual ponytail and its immediately dyed blue, her skin tone, along with her clothing becomes lighter mainly due to the energy and light output of the bluish aura. Her demon face mask then changes transforms into diagonally triangular-shaped glasses, then into a three-pointed star-shaped visor. It is Goro who christened the name of her transformed state because of his fondness for the anime mecha, Tengen Toppa Gurren Lagann.
Element Manipulation: Shortly after attaining any elemental Futurering Forms, Taki later gains the ability to harness their elemental powers as part of her ninja arts. As of Kamen Rider Kenzan Gaiden: Legend of Snow White, Taki has lost access to her Futurering forms due to their Miridewatches lost at the beginning of the series.

Hydrokinesis: Futurering Aqua Mermaid's powers grants her the ability to control water. Additionally, it is also possible for her to walk in water.

Liquefaction: Taki can dissolve herself into water molecules.

Pyrokinesis/Thermokinesis: Futurering Jet Phoenix's powers grants her the ability to control fire and intensify extreme heat temperatures.
Electrokinesis: Futurering Volt's powers grants her the ability to control lightning and thunder.
Aerokinesis: Futurering Shippu allows Taki to generate cyclones and blades made of wind from Rekki-Maru & Mekki-Maru.
Geokinesis: Futurering Rock grants her the ability to manipulate "earthen" elements including most solid objects, dirt, soil, etc.

Enhanced Strength: Taki also gains Kamen Rider Rock's Herculean strength that allows her to not only lift excessively heavy objects that are impossible beyond the standards of superhuman feat, but also uses this power to cause devastating earthquakes.

Cryokinesis: Futurering Grease Blizzard's powers grants her the ability to generate cold particles.

Weather Manipulation: Taki can alter the weather based on the Futurering form she transforms into.

Hyetokinesis: Futurering Aqua Mermaid can call out heavy rainfall on the battlefield.
Thundercloud/Thunderstorm Manipulation: Exclusive to Futurering Volt, in addition to manipulating a downpour, it is also accompanied with thunderstorms.
Drought Creation: Futurering Jet Phoenix has the ability to invoke a drought, an extremely harsh sunlight so bright and hot, it can dehydrate opponents instantly.
Tempestakinesis: Futurering Shippu gives Taki the ability to cause massive windstorms.
Sandstorm Creation: Futurering Rock gives Taki the ability to whip up a sandstorm. The sandstorm allows Taki to be invisible within to avoid enemy detection.
Frigokinesis: Futurering Grease Blizzard allows Taki to invoke either a snowstorm or hailstorm.

Nigh-Omnipotent Powers: After having transcended into a Shinryumajin and obtained the Mugenryu Miridewatch, Taki also gains near-godlike powers.

Immortality: Due to infusing Gurenryu's blood into herself, Taki also achieves immortality, making her impossible to kill. This is no longer the case when as most of her Miridewatches except her own and the TakiBeyond watches are lost, Taki is relegated to a mortal human once again.

Halted Aging Process: Additionally, her immortality causes her body to stop aging.

Time Freeze Reflection: Due to the godlike nature of Mugenryu's powers, Taki can override a Time Jacker's ability to freeze time and simultaneously use their time manipulation powers against them.
Abilities
Musoh-Battoh-Ryu: One of Taki's defining abilities in terms of her sword fighting style. Her trademark fighting style involves using twin ninja blades - Rekki-Maru and Mekki-Maru.
Peak Human Physicality: Taki is also notable for having a very athletic physique. As most of her acrobatic abilities are part of her Musou-Batto-Ryu fighting style that allows her to execute unpredictable and deceptive strikes.
Expert Blacksmith: Taki is a masterful blacksmith, and she is known for having forged her signature dual kodachi and having imbued them with mystical abilities. She even infused a shard of Soul Edge in her other blade, Mekki-Maru. She is also able to create one of her own weapons after becoming a Kamen Rider.
Genius-Level Intellect: Though it's not explicitly shown during Metroid: Kamen Rider Generations Vol. 3: Fates Intertwined, it seems that Taki is shown to be intelligent, having shown to have both vast historical and advanced scientific knowledge to an extent. Also, her use of the Build Ridewatch on the Zikan Kenganbrade also indicates that Taki is proficient with mathematical equation and formulae.
Expert Bowmanship: Taki is also adept with bow and arrow weapons, and when transforming into TakiBeyond, her preferred weapon of choice is mostly the Sonic Arrow.
Expert Manipulator: Taki, being a ninja, is also a manipulative trickster, despite the fact that she can see through deceptions from enemies. Having putting Sougo into a test to prove if he's worthy of the Blade Ridewatch by tricking him into thinking that she and Woz seemingly betraying him, and lured the Time Jackers (Swartz and Ora) into a trap, under the pretense of an "alliance" against White Woz in order to assassinate both of them.
Polylingual: Taki is fluent with and able to speak many languages.
Indomitable Will: Taki is also shown to possess a sheer amount of willpower as a result of her past experiences of training and fighting demons. As of now, it seems that she has overcome Mekki-Maru's forbidden powers in that she has mastered the blade. This feat also allowed her to move during a temporal freeze caused by the Time Jackers, something that cannot be achieved through any means, let alone Sougo and Geiz being able to feel the Time Jackers' presence when they manipulate time. Taki's strong will was one of the key factors that granted her the Volt Miridewatch from Volt.
Knowledge of Ultras: Having ever since being acquainted to various Ultras starting with Gai Kurenai, Taki now has knowledge of various Ultras from different worlds--such as the Land of Light and the World of Neo Space Frontier. And is even aware of incarnations of various Ultras from other worlds like the Ultraman Tiga in Kamen Rider Saber's world.
Weaknesses
Posttraumatic stress disorder: Some time after the Great Malfested War, Taki already showed signs of PTSD to the point she almost shows tendencies of paranoia, self-destructive behavior and withdrawal. This also affected her sense of self-control to the point that her willpower slowly falters.
Maximum Mighty X: During her fight against Huntress Ninja Gamer Level X, the latter used Maximum Mighty X on the Gashacon Key Slasher on Taki. This causes Taki to lose the ability to harness the magical properties of Rekki-Maru and Mekki-Maru due to Maximum Mighty X's reprogramming ability, inadvertently altering the molecular bonds with the swords, at the same time destroying Mekki-Maru and permanently disabling both blades' magical properties. Later on, Mekki-Maru's glow changes from purple to light blue, whenever it senses Pandora Box.
Mugenryu Miridewatch: Though the Mugenryu powers grants Taki nigh-omnipotent powers, there is also a risk that comes with using the Miridewatch's power. As stated by Tsukasa Kadoya, the drawback of forming a contract with Gurenryu also caused Taki to also contract his genetic condition stimulated by psychological and emotional stress by adjusting the flow of time. Each time Taki transforms into MugenryuTaki poses harmful effects to her brain cells, prolonged usage of the Mugenryu Miridewatch causes Taki to become increasingly aggressive, bloodthirsty and vicious like Gurenryu in the process her sanity and sense of morality deteriorates. This is no longer the case once Taki unlocked Mugenryu X-Burst.
Soul Calibur Ridewatch: According to Elysium, if Taki loses her will to fight while assuming Supreme Type, the chances is that Elysium will possess her against her will. This was later mitigated once Taki masters the Soul Calibur Ridewatch.
Forms
Equipment
Devices
Fullbottle-based

Denryujin - Taki's ninjatou/flute transformation device and weapon that allows her to activate Victory Armor with the Heisei Rider Fullbottles Alpha and Beta.
Victory Braceulette - Taki's roulette-bracelet device granting her the power to use of previous Heisei Kamen Riders' Final Forms.
Fullbottles - trinkets used to grant abilities and perform special attacks with the Denryujin.

Ridewatch-based

Taki Galaxy Armor

Galaxy Riser - transformation device for GalaxyArmor.
Ridewatches - transformation trinkets.

Triwatch Holder

- wrist-worn carrier strap for Ridewatches, also used in tandem with the Galaxy Riser. Worn on the right wrist.

Kamen Rider Taki

Beyondriver - transformation belt, received from Taki's future self.
Ziku-Driver - transformation belt for Taki Supreme Type and TakiBeyond.
Miridewatches - transformation trinkets. Gives Taki access to future Kamen Riders' powers and Futurering forms.
Ridewatches - Gives Taki access to previous Kamen Riders' powers, equipment, and vehicles.

Triwatch Holder

- wrist-worn carrier strap for Ridewatches, also used in tandem with the Galaxy Riser. Worn on the right wrist, carried on from Taki Galaxy Armor.
Miridewatch Holder - wrist-worn carrier strap for Miridewatches. Worn on the left wrist.

Wonder Ride Book-based

Tenkuken Amaterasu - transformation device and primary weapon for Taki Fu-Ma Monogatari.
Soseiken Tigadriver - transformation device for TakiBeyond Busou Ohmaken Izanagi.
Faizphone X - communication device
Ridesmapho - secondary communication device.
Sparklence - transformation device as Ultraman Tiga, later transformed into the Soseihokyuken Sakuseimaru.

X Devizer II

- transformation device allowing Taki to transform into various Ultras through Ultra Hero-type Wonder Ride Books.
New Generation Brace - bracelet device that allows KenzanTiga to call upon the powers of New Generation Ultras from Ginga to Z.
Weapons
Handheld weapons:
Non-Rider weapons:
Rider weapons:
Suit-equipped weapons:
Titan Killers

- Futurering Rock's personal weapon based on Kamen Rider Rock's

Titan Crusher

.

GBZ Demolition One X

- Futurering Grease Blizzard's left arm weapon based on Kamen Rider Grease Blizzard's GBZ Demolition One.

Metal Chain Whip

- Futurering Kikai's right arm grapple weapon.

Metallium Shield

- Futurering Kikai's shield weapon.
Faiz Pointer Pointer - FaizArmor's replica of the SB-555L Faiz Pointer accessed by equipping the Faiz Ridewatch into the Beyondriver and using the Faizphone X.
Past Kamen Riders' weapons:
Soulcalibur VI playable characters' weapons used by MugenryuTaki Edge Master Type:
Legend Riders' weapons used by MugenryuTaki X-Burst & TakiBeyond:
Vehicles
Legend Riders' Rider Machines used by MugenryuTaki X-Burst:
Megids Captured
Tanotoa Megid (Kamen Rider Zi-O NEXT TIME: Kamen Rider Taki, Final Chapter feat. Ultraman Tiga, Ultraman Dyna, & Ultraman Gaia)
Legend Rider Devices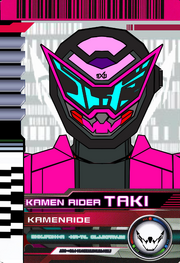 KamenRide: Taki: A Rider Card containing the power of Kamen Rider Taki. This card can be used in Diend's Neo Diendriver to summon Kamen Rider Taki Genesis Type.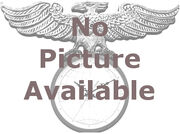 "Fu-Ma Monogatari!"
―Activation announcement
"The story of a kunoichi who leapt through time, fighting side by side with a noble and kind king of time and a savior. (

これは、時をかけるくの一の物語最高最善時の王者と救世主と一緒に戦いました。

Kore wa, toki wo kakeru kunoichi no monogatari saikō saizen toki no ōja to kyūseishu to issho ni tatakaimashita.

?

)"
―Opening announcement
"Fu-Ma Monogatari! Tensho setsudan! Ten o tsukame! Toriageru Tenkuken Amaterasu! Acknowledged by the divine providence, this sword is a gift from the sun goddess that brings forth judgment. (

ふま物語!天正せつだん!てつかめ!とりあげる天照大神!神の摂理によって認められたこの剣は、裁きをもたらす太陽の女神からの贈り物です。

Fu-Ma Monogatari! Tensho Setsudan! Ten o tsukame! Toriageru Tenkuken Amaterasu! Kami no setsuriniyotte mitome rareta kono ken wa, sabaki o motarasu taiyō no megami kara no okurimonodesu.

?

)"
―Transformation announcement with Tenkuken Amaterasu
The Fu-Ma Monogatari Wonder Ride Book (封魔物語ワンダーライドブック, Fūma Monogatari Wandā Raido Bukku?, lit., "Demon Sealing Stories Wonder Ride Book") is based on Kamen Rider Taki Genesis Type. It is used by Taki to access her Fu-Ma Monogatari form.
Relationships

}}
}}
Gallery
Behind the Scenes
Portrayal
Taki is portrayed by Asana Mamoru (護 あさな, Mamoru Asana?), who previously portrayed Jill from Garo: Makai no Hana. When donning the Victory Armor and Galaxy Armor and as Kamen Rider Taki, her suit actor is Ayumi Shimozono (下園 愛弓, Shimozono Ayumi?), who likewise served as her character's stunt double in her out-of-suit fight scenes. Starting from episode 56 onwards, Shimozono is replaced by Yuto Kikuchi (菊池 雄人, Kikuchi Yūto?), while Sanae Hitomi (人見 早苗, Hitomi Sanae?) does the out-of-suit stunt double in her place as the former went on to work as the suit actor for Ryusoul Pink

. Taki's extreme martial arts suit actor is Hideki Sugiguchi (杉口 秀樹, Sugiguchi Hideki?), who has previously done extreme martial arts moves for Kamen Rider Wizard.
In the English version of Taki Gaiden: The Kunoichi Who Leapt Through Time, she is voiced by Cynthia Holloway, who has voiced the character since Soulcalibur III onwards.
Etymology
Taki's name means "Much Rejoicing", according to the limited edition art book that was released with the pre-orders of Soulcalibur II. Her name is rendered there as 多喜 ( 多 - ta - 'many'; 喜 - ki - 'joy'; 'rejoicing'), instead of 滝 (taki - 'waterfall').
During her transformation into Kamen Rider Taki, the numbers on the smartwatch screen behind her is 20:01:11:09 in "hh:mm:ss:ms" (hour, minutes, seconds, milliseconds) format. The numbers when converted into English letters spells out her name (20 = T, 1 = A, 11 = K, 9 = I).
Taki uses the name Rena Iruma (

入麻 レナ

Iruma Rena

?

) as one of her pseudonyms while she is in the Reiwa era. This is a reference to Rena Yanase and Megumi Iruma, both are main characters in Ultraman Tiga.
Design
Most of Taki's forms represent overlapping aspects of mythical creatures and deities from the Japanese mythology:
Notes
Taki is currently the only character to utilize more than one different collectible device based on the season she appears:
Taki is the only Rider representing the Zi-O side with the only distinction to have a unique name for her default form - Genesis Type.
Taki is so far, the only character to achieve 18 transformation forms (including pseudo-Rider forms such as the G6 suit, Victory Armor, Galaxy Armor, Kamen Rider Taki); having surpassed Evolto who possessed at least 8 forms.
Taki is one of the four characters in the Taki Gaiden series known thus far who have any knowledge of the Original Timeline, the others being Zasalamel, Cassandra Alexandra, and Swartz. In Taki's case, however, is due to the fact that she is actually from the Original Timeline itself, who ends up returning to her world reset into a new timeline. Even after Taki reset her world's timeline, she still retains her memories of both the original and pre-reset new timeline.
Taki is the first Rider to use two sets of non-Rider powers - Metal Hero and Ultraman.

Taki is the only Soulcalibur character to transform into more than one Ultraman.
Chronologically speaking, Taki is the first Soulcalibur character to transform into Ultraman Tiga as Kenzan Gaiden takes place four years before Zi-O NEXT TIME: Taki Final Chapter feat. Tiga, Dyna, & Gaia, thus making Ivy Valentine as the second.
See also
Appearances
External Links
References