We're Getting Mutants in the MCU - The Loop
Play Sound
"Let's wrap this up!"
―Anima's catchphrase
"Let's get wild!"
―Anima's pre-transformation catchphrase
Tre Jackson "T.J." Carter is one of the two main protagonists of Kamen Rider Animalia. He is the 24-year-old eldest son of the Carter family who fights forms a contract with his inner demon, Saurex, to fight as Kamen Rider Anima. Together, Kamen Rider Anima and Kamen Rider Malia form Kamen Rider Animalia.
History
Early Life
T.J. was born on July 29, 1998 as the first child of Travis and Makayla Carter as well as the older brother of Tasha and Jacob Carter. When he was four, T.J. witnessed the attempted burning of the Carter household caried out by his father possessed by his inner demon Zebul. Terrified for his mother, younger sister, and baby brother, his fear gave birth to his inner demon who promised to save T.J.'s family in return for T.J. forgetting the events. The inner demon then became dormant for the next twenty years as the Carters moved into a new home and returned to their normal lives, eventually welcoming Jacob to the family.
A couple of years after this, T.J. would find Jacob when the later became lost in the woods during a game of hide and seek. Being a big fan of the sport while growing up, T.J. began playing football when he entered high school, being mentored by Stephen Fischer and becoming good friends with Blake O'Neil. T.J. also met Tasha's friend Layla Quinn around this time, with the two becoming attracted to each other, but never acting upon their feelings.
Both T.J. and Blake aspired to become professional football players, but one day, T.J. seriously injured Blake by accident and suffered tremendous guilt over ending his friend's future in football. While T.J. promised Blake that he would go pro for the both of them, his guilt plus the pressure placed on him by Blake caused him to stop wanting to continue his dreams. When Saurex realized this, he caused T.J. to forget his promise as well as the injury of his friend. T.J. later graduated high school and college, but gave up his aspirations to continue his football career to help with his family's museum.
Becoming Kamen Rider Anima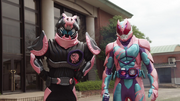 One day, while giving a tour to visiting students, T.J. once again became aware of Saurex's existence and began expirencing minor inconviences due to the demon. Attending Jacob's ceremony at Genome X, T.J. was witness to the attack of the Cult of Phisto, who put his brother in danger as well as injuring his mother. T.J. was later convinced by Ryder Marks to use the Emboss Wildriver and transformed alongside Saurex. After the battle, Ryder christened T.J. as "Kamen Rider Anima", but T.J. gave the driver back to the belt's creator, being uninterested in fighting and only wanting to help his family's museum.
Despite Jacob's insistence, T.J. refused to sign a contract with Genome X to fight as a Kamen Rider, only using the driver whenever the situation called for it. However, after Layla Quinn became an Innemon due to his inaction, T.J. singed the contract and began working for Genome X, using the museum as a place for people to ask for his help in Innemon-related incidents.
Learning Trust
Eventually, Jacob would be taken over by his inner demon Skade, who fought T.J. as Kamen Rider Nocturn. Aidan Morgan, who was first unsure of T.J.'s status as Anima, later joined his side as Kamen Rider Aranea to help him in the fight against Nocturn. Eventually, T.J. was able to save Jacob from his inner demon, with Jacob becoming Kamen Rider Diurn afterwards. When Tasha began showing the urge to fight and help others, T.J. encouraged her to find her true strength and later watched on proudly as she became Kamen Rider Strike.
During the invasion of Genome X's Aero Base, T.J. grew to trust Saurex enough to allow the demon to operate on his own, granting him access to the Cracking Rex Beastamp and its associated form via the Tyranno Beastamp synchronizing with the new stamp. T.J. then later had to once again fight William Spencer after the latter escaped Genome X custody. While the former laywer shook T.J.'s confidence by accusing him of being an egotist, Saurex convinced T.J. not to worry about it and the two riders once again defeated Spencer, who was taken away by Cult of Phisto member, Thanatos.
Being alerted to the revival of Demolon, T.J. and his allies met the Knights of Talestia and assisted them in the battle against the demon. Things were further complicated by the arrival of time travelling SOAR scientist James Douglas, who wanted to reconcile with his now elderly son, Brian.
As Saurex and his siblings went to the future to fight, T.J. fought Demolon on his own until their return. He then used the Neo Hopper Beastamp as he and Saurex joined forces with Star Saber and the reformed Kamen Rider Beyonder. The four riders then later defeated Demolon and destroyed him for good.
Taking the Fight to the Cult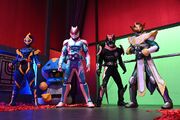 After using Skade to find the entrance to the Phisto Base, T.J. alongside Saurex, his siblings, Aidan, and Xorcist Squad members raided the base. During the battle, T.J. witnessed the deaths of William and Spencer Graham and was shaken by their deaths as all other human-Innemon hybrids simply seperated from their Innemons. T.J. later tried to convince the Chameleon Innemon to help them save his life, but was forced to put the man down.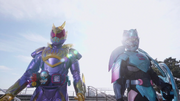 Still wanting a way to separate and save Omega Phase Innemons, T.J. and Saurex underwent VR training in order to train themselves to master the power of the Volcano Beastamp. Once Thanatos created a Phistian, T.J. used the Volcano Beastamp combined with the Cracking Rex Beastamp to transform into Magma Rex Genome. Upon defeating the Phistian however, T.J. learned that since Phistians were born by devouring the souls of their hosts, the hosts are unable to be saved. T.J. attempted to attack Thanatos, but his emotions caused his Magma Rex Genome form to badly burn him, which sent T.J. to the hospital. After a conversation with Saurex about T.J.'s issues, the bond between them grew further and allowed them to use the Volcano Beastamp more effectively, splitting Russel Beale from his Innemon.
Upon learning of Aidan's issues with the Aranea Driver, T.J. began worrying for her health and devised a plan with Diana Murray to save Aidan's life by kicking the Aranea Driver off of her before the device could kill her as well as defeating Thanatos. Aidan then later informed T.J. and Jacob of the demon within the Aranea Driver. Unfourtunately, Thanatos was later able to escape custody and transformed into Kamen Rider Aranea himself, easily defeating the other riders as well as put Aidan into a coma after knocking her off of a cliff.
Merge to Animalia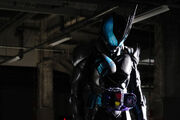 Following multiple headaches endured by Saurex due to Phisto's growing power, T.J. was gifted the Roller Beastamp by an unknown source to treat Saurex's headaches. Upon using it to become Demon Animalia however, T.J. was forced to switch positions with Saurex, forcing him to become an incorporeal being as Saurex was allowed to roam in physical form. When Ryder came up with a way to help them, T.J. watched on as Saurex's distrust of Ryder made him hesitant to do what Ryder told him. T.J. got around this by asking Saurex to trust him while he trusted Ryder. Scanning the Tyranno Beastamp on the Roller Beastamp, T.J. was given his physical body again as well as the ability to control Demon Animalia. Although he had his physical body back, T.J. was now merged with Saurex, who could take over his body at will.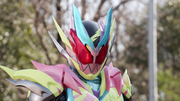 As T.J. and Saurex tried to adjust to this change, Zebul reemerged and accidentally gave T.J. his memories of the house fire back. T.J. and his siblings then later learned that they are technically descendants of Phisto via their father being injected with Phisto's cells when he was younger. As Phisto came even closer to awakening, it caused Saurex to rampage and T.J. was forced to fight Saurex in his subconscious. Successfully breaking Saurex from Phisto's control, T.J. and his demon used the Thunder rex Beastamp and united as the true Kamen Rider Animalia. After this, T.J. and Saurex were restored back to having their own bodies, with Saurex now becoming permanently physical outside of transforming.
Looking at the Past
With the news that Aidan's condition was showing improvement, T.J. joined his siblings and Ryder in creating a memorial movie for Aidan that would catch her up to speed upon her waking up. Eventually, T.J. and Saurex were called away to fight two new versions of Phistians and defeated them as Animalia, unaware that Director Watts was watching the events from Genome X's base.
Personality
T.J. is a calm and selfless young man who cares about his family over anything else, shown when he only used the Animalia System to protect his mother and other family before returning the system in order to watch over his family's museum. He is also a very kind person, wanting to keep others happy during museum visits. Due to his initial disinterest in becoming a full time rider, T.J. accidentally allowed others to be hurt due to his inaction as seen with the Quinn family.
While T.J. genuinely wants to help and protect others, William Spencer makes a point that T.J. never considers the past of those he fights or where they and other victims are left because of himself, stating that T.J. only helps others to satiate his own ego. While T.J. doesn't deny this directly, he later reveals to Saurex in private that he helped other people as a way to find a purpose in life after giving up his football aspirations. T.J. also has a habit of worrying over his siblings to the point of being a worrywart to them, but after seeing both become Kamen Riders, T.J. learned to trust them to fight their own battles without him getting involved.
Powers and Abilities
Powers
Phisto's Offspring Physiology: As a child of the man who is infused with Phisto's DNA, T.J. can safely transform into a Kamen Rider using the Beastamp system.
Inner Demon Control: T.J. possesses the ability to keep his inner demon Saurex under control, enabling him to use the Emboss Wildriver and Saurex to appear as a corporeal being instead of an Innemon. As noted by Ryder Marks, T.J.'s ability to do this greatly enhances his power output as Anima, as seen with Magma Rex.
Demon Purging: Through the Volcano Beastamp, Anima can purge the demon form from contract-holders, as long as their human bodies still exist, unlike Phistians, where their host is consumed upon creation. This ability extends to Thunder Rex/Animalia, with the power being strong enough to separate an Innemon merged with Phisto's Coffin.
Incorporeal Physiology (temporarily): After the initial usage of the Roller Beastamp, T.J. and Saurex switched places, with Saurex being permanently materialized and T.J. taking an immaterial form connected to the demon. During this period of time before they were able to switch back, T.J. exhibited several physical characteristics similar to Saurex in his original state:

Imperceptibility: T.J. cannot be perceived by anyone else other than Saurex, having to possess the Cell Blaster in order to communicate and be seen by others. It is unknown if stamping the Tyranno Beastamp onto Saurex would be able to materialize T.J. the same way it did before with Saurex.
Intangibility: T.J. is completely intangible and can pass through everything, including his demon.
Abilities
Expert Combatant: Because T.J. used to play football, he uses his former skills in battle for both evasive and offensive purposes. Examples include kicking in combat and performing slide tackles.
Expert Football Player: T.J. is a former football player and won multiple tournaments and awards throughout high school.
Intermediate Illusionist: T.J. is capable of performing a sleight-of-hand magic trick using a piece of candy.
Keen Insight: Although T.J. is not a professional detective, he is able to accurately analyze and deduce the harmful schemes of various individuals.
Weaknesses
Memory Loss: After witnessing his family's original home burning down when he was a child, T.J. made a contract with Saurex that stated the demon would protect his family in exchange for T.J.'s memory of the event being erased. However, as a result of this contract, T.J.'s memories of his family are progressively erased the more he uses Saurex's power to fight as a Kamen Rider. As the battle against Phisto progresses, T.J.'s memory loss has become so severe and he had forgotten routine parts of his life, such as family dinners and using the baths. By the time he defeats Might, he has even forgotten who his siblings and parents are, with only his memories of Saurex remaining intact.
Former Weaknesses
Phisto: Due to briefly merging with Saurex, T.J. also became affected by Phisto's revival in a way that cause Saurex to go berserk. The usage of the Thunder Rex Beastamp was able to bring T.J. and Saurex in tune back together, freeing Saurex from Phisto's influence and restoring them both back to normal.
Forms
Equipment
Devices
Weapons
Suit-Equipped Weapons
Tusk Rangs: A pair of boomerangs that can be used not only for throwing but also for close combat. Exclusive to the Mammoth Genome.
Dimension Fins: A fin-shaped blade mounted on each arm that can be used in close combat. Exclusive to the Megalo Genome.
Anima Gorilla Gaunts: A pair of rocket-powered punching gloves. Exclusive to the Gorilla Genome.
Mantibow: A bladed bow that can be used in close combat and fire energy arrows. Exclusive to the Mantis Genome.
Relationships
Family
Friends
Saurex/Kamen Rider Malia: T.J.'s inner demon. Due to his attitude and actions, Saurex irritates T.J. from time to time, at one point driving T.J. to transformed to give Saurex a physical body just to fight him. As their time fighting together goes on though, their partnership and friendship continues to grow. Eventually, T.J.'s trust in Saurex led him to once again allow the demon to gain his own body for a second time despite his reservations, realizing that Saurex had kept true to his word not to hurt others and even helped T.J. when he needed it the most. During the situation with Demon Animalia, T.J. and Saurex showcased how close their bond had become and trusted each other without question. While fighting Saurex in his subconscious, T.J. refused to give up on Saurex and fought hard to save his inner demon.
Najathi: Tasha's inner demon.
Allies
Enemies
Others
Layla Quinn: A friend of T.J. and Tasha. She and T.J. seemed to have crushes on each other, but their relationship was strained following Layla's use of the Gorilla Innemon.

Blake O'Neil

: to be added.

Stephen Fischer

: to be added.
Behind the scenes
Portrayal
Rider No.
As one of the leading rider protagonists of Kamen Rider Animalia, Anima is labeled Kamen Rider #37 and New Era Rider #3 alongside Kamen Rider Malia.
Etymology
The word Anima is defined as an individual's soul/true self that reflects archetypal ideals of conduct.

Together with Malia, the name of both riders is one of the basic groups of living things which is comprised of all animals.

His full initials, T.J.C., are also the first letters of the three time periods that made up the Mesozoic Era in chronological order.

Coincidentally, his first two initials match the first initials of his siblings, even in correct age order.
Notes
T.J.'s transformation pose represents the number fifty and the Kamen Rider series' fiftieth anniversary, with his crossed arms resembling the kanji for the number ten and his open hand representing the number five.
Anima's Tyranno Genome mask design incorporates the classic antenna of a traditional Kamen Rider mask, only stylized in a manner to resemble the cranial ridges of a T-Rex's head. This aesthetic extends to Anima's auxiliary forms, with the animal designs being incorporated seamlessly with the existing rider motifs.
Mammoth Genome's Tusk Rangs is based on the boomerang configuration of the TBA when in Wing Form.
The design of Anima Ptera Genome's chest is based on Phi Knight TBA Form.
The design of Anima Lion Genome is based on Mighty Knight Ultimate Form.
Gorilla Genome's gauntlets are similar to the Mag Modules of Quasar Knight's Magnet Star.
Mantis Genome's weapon is a reference to Lock Knight's use of

Mixer Fruit Arms

giving him the

TBA

as a sidearm.
Brachio Genome has Quantum Knight Dual's shoulder armor, Overlord Quantum's visor color, and the Strap Armor's length from both.
The armor around the legs of Anima Neo Hopper Genome appears as a mix of Rising Hopper's and Zero-Two's,
Anima's forms taking design aspects from various forms of their respective Legend Riders is similar to the

Knight Armors

from Kamen Rider: Quantum Knight.
Unlike most Riders with an array of form changes and unlike all preceding Legend Rider-themed forms, Anima's color scheme does not change between his basic forms. Instead, he incorporates their elements into his own design while keeping his main color scheme.
Appearances
See also

Kamen Rider Animalia
Kamen Riders
T.J. Carter - Saurex - Jacob Carter - Skade - Tasha Carter - Aidan Morgan - Thanatos - Travis Carter - Zebul - Colin Burke - Russel Beale - Lili Theodore - Arthro Nest - Ryder Marks
Movie/Special-exclusive: Kamen Rider Beyonder (James & Brian Douglas) - Chris Meran - Soldemo - Kamen Rider Sibeast
Clone Riders: Lance Blaze (

One

,

V1

,

Accel

), Noel Knight (

ZO

,

Mighty

,

Spade

), Luceo (

Evolve

,

Action

, Zerone), Saurex (

RX

,

Quasar

,

Prophet

), Jacob Carter (

Chiro

,

Meteor

,

Long

), Tasha Carter (

Space

,

Date

, Amazon)
Gear
Transformation Gear
Emboss Wildriver - Dual Unitedriver - Cage Expandriver - Arthro Driver - Beelze Driver - Hive Apidriver - Aerondriver - Dynas Driver - Rolling Rage Beastamp - Zygotes Driver - Migotes Driver
Beastamp-related
Beastamps - Beastamp Holder - Beastamp Carrier
Normal Weapons
Wild Blastchopper - Cell Blaster - Wild Smashammer - Cracking Rex Shield - Roller Beastamp - Nocturn Saber - Diurn Blaster - Stinger Kunai - Rolling Rage Beastamp -

Hannack Fangs
Genome/Genomerge Arsenals
Strike: Najathi (Peacock, Turtle, Shoebill)
(Max) Arthro: One Hinders - Mole Wildrill - Joker Aeronator - X Stinger - R Scratchers
Dynas: Komodo Dragon Flamer - Crocodile Driller - Gorilla Smasher
Vehicles
Saurex (Ptera, Jackal)
Allies
Eon Museum: Makayla Carter - Henry Lewis - Russel Beale
Demons:
Najathi
Legend Riders: Henry Wells - Lance Blaze - Noel Knight - Alistair Bolton - Caesar Landon - Shino Valia - Jestro - Myla - Luceo - Rita Emerson - Tyler Emerson
Others:
Ryder Marks (2072)
Genome X
Director: Vance Watts
Commanders: John Xavier - "John Xavier" - Aidan Morgan
Squad Leaders: Jacob Carter - Henry Ashton
Others: Ryder Marks - Diana Murray
Genesis
Leader: Brittany Marks
Burke Family: Colin Burke - Gregory Burke - Eliza Burke
Other Members: Tasha Carter - Lili Theodore - Russel Beale -

Arthro Squad
DRE Division
Director:

Gabriel Walsh
Researchers: Jonathan Marks
Military: Henry Lewis - Vance Watts
Others: Jackson Ritter
Cult of Phisto
Demons:
Phisto
Notable Members: Vance Watts - Thanatos - Berus - Lilith - Spencer Graham - William Spencer - Chameleon Innemon
Innemons
Tyranno Innemon - Mammoth Innemon - Mantis Innemon - Megalo Innemon - Gorilla Innemon - Lion Innemon - Squid Innemon - Wolf Innemon - Kangaroo Innemon - Cheetah Innemon - Brachio Innemon - Planarian Innemon - Chameleon Innemon - Smilodon Innemon - Queen Bee Innemon - Hammerhead Innemon - Elephant Innemon - Anomalocaris Innemon - Rafflesia Innemon
Footsoldiers: Phistoids
Phistians: Normal - Evolved - Omega
Others: Phisterror - Innemon Clones
Innemon Contract Holders
Adam Dixon - Aidan Morgan - Ollie Hunt - Daniel Young - Layla Quinn - Leon Taylor - William Spencer - Phineas Yaeger - Scammer Group - Spencer Graham - Sophia Combs -

Kristina May

-

Stephen Fischer
Phistian Hosts
Unnamed Excavator - Unnamed Cult of Phisto Follower - Javon Mosley - Kayla Avery - Olivia Sawyer - Unnamed man - Unnamed child
SOAR
Demolon
Eidolon
Himiko Eidolon

-

Khufu Eidolon

-

Edison Eidolon

-

Leonidas Eidolon
Demon Rider Corps
Soar Rider One - Soar Rider Two - Venom Knight - Eternal Knight - Sorcerer Knight - Duke Knight - Masked Rider Four - Mask Knight
Others
SOAR Executive
View • Edit