Saurex is one of the main two protagonists of Kamen Rider Animalia. He is the inner demon born from T.J. Carter's desire to protect his family and transforms into Kamen Rider Malia. With the impending revival of the demon known as Phisto, T.J. and Saurex would eventually combine their powers to become Kamen Rider Animalia.
History
Birth
Saurex is T.J. Carter's inner demon who was spawned when the four year old witnessed his father burned their house down under the control of his own inner demon, Zebul. After being created, Saurex comforted T.J. and made a deal to protect T.J.'s family in exchange for the latter forgetting the events of that night. After this, Saurex would remain dormant for the next twenty years, with the exception of using his powers to make his host forget about him injuring Blake O'Neil and promising to become a professional football player for both of them.
Becoming Kamen Rider Malia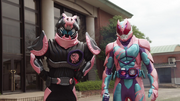 One day, Saurex was once again seen and heard by T.J., much to the demon's own surprise. After causing some minor issues for T.J., Saurex implored T.J. to make a contract with him and let him out in order for Saurex to protect T.J.'s mother Makayla during the Cult of Phisto's attack of the Genome X ceremony. Gaining a corporeal body via the Tyranno Beastamp, Saurex attacked some of the Cult's forces before attempting to eat Makayla, only to be turned incorporeal once again by T.J. via the Emboss Wildriver. When T.J. transformed into Kamen Rider Anima, Saurex regained a physical body as he became Kamen Rider Malia.
While trying to convince T.J. to once again give him a corporeal body again, Saurex ended up enraging T.J. due to his continued mischief towards people. T.J. then refused to use the Wildriver while fighting unless Saurex promised to protect people instead of causing issues, forcing Saurex into compliance when he remembered that he would die if T.J. did. After this, Saurex would stick to his promise and worked to protect people alongside his host.
Rise of the Carter Siblings and Trust
Eventually, Saurex and T.J. were attacked by Kamen Rider Nocturn, who's real identity was the inner demon of T.J.'s brother Jacob. Aidan Morgan would later assist Saurex and T.J. in their battle against Nocturn as Kamen Rider Aranea. Saurex later gave T.J. the push to continue believing in Jacob, leading to the youngest Carter becoming Kamen Rider Diurn. Saurex would then later watch on as Tasha Carter transformed into Kamen Rider Strike, with the demon striking up a companionship with Tasha's inner demon Najathi.
During the raid on Genome X's Aero Base, Saurex repeatedly tried to convince T.J. to give him his own corporeal body once again only to be rejected by T.J., who wasn't sure if he could trust the demon. When T.J. came to the conclusion that Saurex had kept his promise of protecting people and that he could truly trust him, Saurex was granted his own body once again. He then later assisted T.J. when the latter evolved into Cracking Rex Genome, but was disappointed to learn he didn't get an upgrade as well. When he questioned Ryder about this, the researcher revealed that he still held a grudge against the demon for calling his original Jackal Genome design for Malia ugly. In response, Saurex simply created himself a shield that he would use whenever T.J. transformed into Cracking Rex Genome. Saurex then later comforted T.J. when William Spencer called the latter nothing more that an egotist, with Saurex telling him he was just fine the way he was before the two beat Spencer.
During the revival of Demolon, Saurex and his allies worked alongside the Knights of Talestia to prevent the demon's plans to destroy the world. The group would also encounter SOAR scientist James Douglas, who time travelled to the modern day to reconnect with his now elderly son Brian.
As part of the plans to beat Demolon, Saurex joined Jacob, Tasha, Lance, Noel, and Luceo in the future. They met an elderly Ryder there who gifted Saurex the Neo Hopper Beastamp before allowing the six to change into previous riders, with Saurex becoming Masked Rider RX, Quasar Knight, and Prophet Knight. The six time travellers then returned to their modern day, with Saurex giving T.J. the Neo Hopper stamp. Transformed into their Neo Hopper Genome forms, Saurex and T.J. destroyed Demolon for good alongside Star Saber and a reformed Kamen Rider Beyonder.
Taking the Fight to the Cult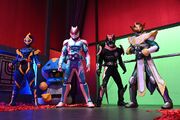 Raiding the Phisto Base alongside T.J., Jacob, and Tasha, Saurex helped in taking down the Cult and destroying their base. Saurex and T.J. later defeated the Chameleon Innemon, but were unable to save his contractor, similar to how they were unable to save William Spencer and Spencer Graham.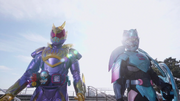 With T.J wanting to separate hosts from their Omega Phase Innemon forms, Saurex underwent VR training alongside his host in order to master the Volcano Beastamp's powers. When Thanatos unleashed the Phistians on the city, Malia evolved into Cracking Rex Genome as T.J. upgraded into his Magma Rex Genome form. Despite defeating the Phistian, they learned that Phistian hosts died upon transformation, making them impossible to save. After T.J. was injured by the form's power, Saurex persuaded T.J. to keep his head up and the two were later able to successfully split Russel Beale from his Innemon.
Unfortunately, Saurex would soon begin to develop headaches due to Phisto's growing powers. When recognizing Aidan's declining health due to the Aranea Driver, Saurex and T.J. did their best to save her life, with the Genome X commander revealing the existence of the demon within the Aranea Driver, who Saurex didn't recognize was Zebul. When Thanatos became the new Kamen Rider Aranea and put Aidan into a coma, Saurex mourned the condition of his ally.
Merging with T.J.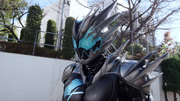 With Saurex's headaches becoming worse, he begged T.J. to use the new Roller Beastamp they had received that they were told could stop the demon's headaches. Upon T.J. transforming into Demon Animalia however, Saurex realized that it was only him on the battlefield and was later surprised to see that T.J. had now become the incorporeal one with Saurex retaining the physical body. Pretending that he betrayed T.J. to keep his host safe from harm, Saurex was soon found out by Tasha and Jacob, admitting the truth of his actions to them. Saurex would then later be approached by Ryder with a way to restore him and T.J., Saurex was unable to trust Ryder due to the latter's willingness to use Aidan as a lab rat. This was circumvented by T.J. convincing Saurex to trust him while he trusted in Ryder. Allowing T.J. to once again have a physical body, Saurex and his host were later surprised to learn that they had merged into one body, being able to switch back and forth.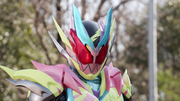 As Saurex and T.J. tried to adjust to this change, Zebul reemerged and gave T.J. his memories of the house fire back. Things were further complicated as Saurex's headaches grew to the point where Phisto could control Saurex and send him into a berzerk state. The Phisto-controlled Saurex then later fought T.J. within his host's subconscious, with T.J. being able to save Saurex from Phisto's influence. The two then used the Thunder Rex Beastamp to become the true Kamen Rider Animalia and easily defeated the Anomalocaris Innemon before untransforming to reveal that the two had become separate once again, with Saurex gaining a permanent physical body outside of T.J.'s transformations.
Personality
Despite his host's kind and calm nature, Saurex was initially very flamboyant and mischievous, wanting nothing more than to be free of his host's body and rampage to his heart's content. Despite this, he will easily protect T.J., if only because T.J.'s survival directly affects his own. However, his determination to defend T.J. has evolved from a potential sense of selfishness to a genuine care for his host. This culminated in Saurex pretending that he betrayed T.J. after their first transformation into Demon Animalia strictly to protect T.J. from Ryder, who Saurex had begun to mistrust. Saurex then later reaffirmed his genuine care for T.J. when Tasha questioned if Saurex really cared about her older brother. As they became closer, Saurex also acted as a comforter and advice giver to T.J., even calling his host out on his inner thoughts when necessary.
Saurex also initially showed an interest in eating humans, but would seemingly lose this urge, only joking about it to bother T.J. or as a scare tactic. Saurex also was initially unbothered by the prospect of people dying, even showing indifference to the concept of Tasha Carter dying, stating that T.J. still had three other family members. By the time that T.J. gained the use of the Volcano Beastamp however, Saurex had grown to truly care about people like his host does, revealing to T.J. that the failure to save people from their Omega Phase states and/or Phistian transformations bothered him as well. His care for other people is seemingly stronger towards his allies, as Aidan being put into a coma deeply saddened him and learning of Ryder using Aidan as a lab rat gave way to a serious lack of trust towards the researcher.
Powers and Abilities
Demon Physiology: As a demon, he possesses the following characteristics:

Enhanced Strength: Saurex possesses enough strength to send the Tyranno Innemon flying through the air with one punch whilst not transformed.
Imperceptibility (formerly): Saurex cannot be perceived by anyone other than his host or another inner demon such as Najathi. A solution is to summon him through T.J.'s usage of a Beastamp, either on himself or through the Emboss Wildriver. This can also be bypassed by possessing either the Cell Blaster or the Beastamp Carrier, allowing Saurex to be seen and heard by others. After the use of the Thunder Rex Beastamp by T.J., Saurex has been given a full time corporeal body outside of transformation.
Intangibility (formerly): Saurex is completely intangible and can pass through everything, including his host. After the use of the Thunder Rex Beastamp by T.J., Saurex has been given a full time corporeal body outside of transformation.
Energy Attack: Saurex can generate black and blue energy to his foot to execute an energy kick.
Inanimate Possession: Saurex can possess inanimate objects via Beastamp application on the said object. He can transform and/or enhanced the physical capabilities of these. So far, he has possessed the following:

T.J.'s Bicycle in episode 2. Saurex also increased the bike's speed to catch up and pass Jacob's motorcycle in seconds.
A piggy bank in episode 15, and made it capable of throwing gold coins as a distraction.
The Roller Beastamp in Episode 23. By stamping it onto himself, Saurex can possess the Beastamp, using the Beastamp for fast travel in order to make a quick escape.

Mind Accessibility: Saurex is able to literally enter the mind of someone else and explore their hidden thoughts and emotions, as long as he is within close proximity of them.

Memory Erasure (Uncontrollable): Saurex is able to repress any of T.J.'s memories that has a traumatic effect on him, though these memories can be reawakened later on in life. A much more permanent version of this is in effect as a condition of the contract formed between Vice and T.J.: as T.J. continues to fight using the Emboss Wildriver, his memories of his family will eventually fade away, as indicated by T.J.'s image disappearing from his family photographs.

Fire Breath: Saurex can generate fire out of his mouth for offense purposes.
Abilities
Combatant: Saurex seems to be knowledgeable in certain martial arts techniques such as executing a corkscrew pile driver. On a more humorous note, Saurex sometimes has a knack of executing parodies of techniques from other fictional franchises.
Weaknesses
T.J. Carter: Saurex is dependent on the body and mind of his host, T.J., and cannot assume a physical form without T.J. transforming or using the Tyranno Beastamp. If T.J. dies, Saurex will as well. When the two are swapped as a result of using the Roller Beastamp, Ryder mentioned that T.J. becoming incorporeal meant he could not consume any nutrients and therefore could starve to death, which would kill Saurex as well.
Former Weaknesses
Phisto: Due to Saurex being a demon, Phisto's revival has also affected Saurex in a way that gives him immense headaches, which become increasingly more painful as Phisto grows stronger. Despite being told otherwise by a Genesis representative disguised as a Genome X agent, the Roller Beastamp does not seem to fully negate these headaches. Later, Phisto's revival would also cause Saurex to go berserk and attacking both friend and foe alike, until the usage of the Thunder Rex Beastamp was able to bring T.J. and Saurex in tune back together, freeing Saurex from Phisto's influence and restoring them both back to normal.
Forms
Demon Saurex
Demon Saurex
. While he normally has a ghost-like lower body that is connected to T.J.'s body, he gains legs when physically materialized outside of T.J. This is usually seen for a brief period of time when they transform, but he remained in his physical state for an extended period of time when T.J. stamped himself with the Tyranno Beastamp and formed a contract with Saurex. However, Saurex was forced back into T.J.'s body shortly after when the latter equipped the
Emboss Wildriver
. Later, after strengthening his trust in Saurex, T.J. occasionally releases the demon again by stamping himself with the Tyranno Beastamp whenever Saurex is needed. After the use of the Thunder Rex Beastamp, Saurex gained a permanant physical body, only once again becoming incorporeal when his host goes to transform.
Equipment
Devices
Link Buckle - A belt worn around Kamen Rider Malia's waist. It has a built-in "Genome Charger" that connects it to Anima's Emboss Wildriver, allowing Malia to harness the Beastamp's power from his partner.
Beastamp Holder - Carrying straps for Beastamps. Unlike Anima's, his is grey rather than cyan.
Emboss Wildriver - Transformation device as Demon Animalia
Weapons
Suit-Equipped Weapons
Hide Shield: A pair of arm-mounted shields that can be combined for increased defense. Exclusive to the Mammoth Genome.
Cracking Rex Shield: Armed when either Anima or Malia is in Cracking Rex Genome.
Possessions
Relationships
Allies
Enemies
Behind the scenes
Portrayal
Saurex is voiced by Jake T. Austin. Malia's Ptera Genome is based on the XTURISMO hover bike developed by A.L.I. Technologies. Malia in Jackal Genome is based on a skateboard created by Japanese studio 5050.
Rider No.
As one of the leading rider protagonists of Kamen Rider Animalia, Malia is labeled Kamen Rider #37 and New Era Rider #3 alongside Kamen Rider Anima.
Etymology
Two definitions for the word/name Malia is "bitterness" and "rebelliousness".

Together with Anima, the name of both riders is one of the basic groups of living things which is comprised of all animals.
Notes
Saurex's forms are simply stitching-themed armor to cover his devil body. This aesthetic extends to his auxiliary forms, with certain motifs and color schemes being incorporated. Moreover, he often exhibits behavior similar to the Rider his Genome is based on. This parallels the Innemons, who each have a unique body covered up by origami-styled armor, leaving only the insect face and lower legs.
Saurex is the first Rider to not have a personal transformation device.

Of the few Riders who relied on another for transformation, Saurex is also the only one who has no transformation device on his Rider form. However, he still relies on a connection to the Driver of his series, much like Train Knight's TBA and Duo Knight's connection with either Connor or Logan depending who is the acting host body.
Appearances
See also

Kamen Rider Animalia
Kamen Riders
Current Riders: T.J. Carter - Saurex - Jacob Carter - Tasha Carter - Colin Burke - Travis Carter/Zebul - Lili Theodore
Former Riders: Aidan Morgan - Skade - Thanatos - Ryder Marks
Movie-exclusive: Kamen Rider Beyonder (James & Brian Douglas)
Clone Riders: Lance Blaze (

One

,

V1

,

Accel

), Noel Knight (

ZO

,

Mighty

,

Spade

), Luceo (

Evolve

,

Action

, Zerone), Saurex (

RX

,

Quasar

,

Prophet

), Jacob Carter (

Chiro

,

Meteor

,

Long

), Tasha Carter (

Space

,

Date

,

Amazon

)
Gear
Drivers
Emboss Wildriver - Dual Unitedriver - Cage Expandriver - Aranea Driver - Beelze Driver - Hive Apidriver - Aerondriver
Beastamp-related
Beastamps - Beastamp Holder - Beastamp Carrier
Weapons
Wild Blastchopper - Cell Blaster - Wild Smashammer - Cracking Rex Shield - Roller Beastamp - Nocturn Saber - Diurn Blaster - Najathi (Peacock, Turtle, Shoebill) - Mole Wildrill - Stinger Kunai
Vehicles
Saurex (Ptera, Jackal)
Allies
Eon Museum: Makayla Carter - Henry Lewis - Russel Beale
Demons:
Najathi
Legend Riders: Henry Wells - Lance Blaze - Noel Knight - Alistair Bolton - Caesar Landon - Shino Valia - Jestro - Myla - Luceo - Rita Emerson - Tyler Emerson
Others:
Ryder Marks (2072)
Genome X
Director: Vance Watts
Commanders: John Xavier - "John Xavier" - Aidan Morgan
Squad Leaders: Jacob Carter - Henry Ashton
Others: Ryder Marks - Diana Murray
Genesis
Leader: Brittany Marks
Burke Family: Colin Burke - Gregory Burke - Eliza Burke
Other Members: Tasha Carter - Lili Theodore - Russel Beale
DRE Division
Director:

Gabriel Walsh
Researchers: Jonathan Marks
Military: Henry Lewis - Vance Watts
Others: Jackson Ritter
Cult of Phisto
Currently: Phisto - Vance Watts
Formerly: Berus - Spencer Graham - William Spencer - Chameleon Innemon - Olivia Sawyer - Thanatos - Lilith
Innemons
Tyranno Innemon - Mammoth Innemon - Mantis Innemon - Megalo Innemon - Gorilla Innemon - Lion Innemon - Squid Innemon - Wolf Innemon - Kangaroo Innemon - Cheetah Innemon - Brachio Innemon - Planarian Innemon - Chameleon Innemon - Smilodon Innemon - Queen Bee Innemon - Hammerhead Innemon - Elephant Innemon - Anomalocaris Innemon - Rafflesia Innemon
Footsoldiers: Phistoids
Phistians: Normal - Evolved - Omega
Others:
Phisterror
Innemon Contract Holders
Adam Dixon - Aidan Morgan - Ollie Hunt - Daniel Young - Layla Quinn - Leon Taylor - William Spencer - Phineas Yaeger - Scammer Group - Spencer Graham - Sophia Combs -

Kristina May

-

Stephen Fischer
Phistian Hosts
Unnamed Excavator - Unnamed Cult of Phisto Follower - Javon Mosley - Kayla Avery - Olivia Sawyer - Unnamed man - Unnamed child
SOAR
Demolon
Eidolon
Himiko Eidolon

-

Khufu Eidolon

-

Edison Eidolon

-

Leonidas Eidolon
Demon Rider Corps
Soar Rider One - Soar Rider Two - Venom Knight - Eternal Knight - Sorcerer Knight - Duke Knight - Masked Rider Four - Mask Knight
Others
SOAR Executive
View • Edit