SD Programmers

Type

Transformation Device
Collectable Item

User

Season

First Appearance

Last Appearance

TBA

Number of Episode Appearances

TBA (Zerone)
The SD Programmers are SD card/key card devices used by the Riders of Kamen Rider Zerone that contain the power of animals.

Overview
SD Programmers
SD Programmers are used by Kamen Riders to transform. Once combat data is uploaded from L.I.S.A.'s observations of Zerone's battles, Elle analyzes the data and then after making calculations, commissions a new Progrisekey to be made from the Elliott's 3D printer for Lewis to use.
Later, after Kamen Rider Glitch reactivates the Ark, it also gains the ability to create SD Programmers in a hidden area inside HackNet's base. It would go on to create the Assault Wolf SD Programmer, Amazing Caucasus SD Programmer, Awaking Arsino SD Hacker, Metal Cluster Hopper SD Programmer, and Rampage Gatling SD Programmer.

Humandroid SD Programmers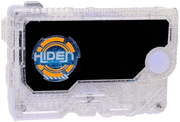 Sometime before she sent Builder and Neadeal to obtain the data of Metal Cluster Hopper from the computer in HackNet's former hideout, L.I.S.A. had provided Humandroids that befriended Lewis Elliott blank SD Programmers. After the data was obtained, they scanned the SD Programmers on their Humandroid Body Seals, uploading their personal data into them and transforming them into corresponding Humandroid SD Programmers, which were then used along with the Rising Hopper SD Programmer to create the Progrise Hopper Blade. After Alexander Vasira acquired Elliott Industries, Elliott Manufacturing has created additional Humandroid SD Programmers and uses them to reactivate the discarded Humandroids it recovers.
Because it contains their data, a Humandroid SD Programmer can be used to restore the data of the Humandroid that created it if they are deactivated by scanning it on their Humandroid Module. However, the Humandroid won't be connected to Elle. It can also be used to program a new unit with the appearance and functionality of the contained Humandroid's model, as seen when Lewis Elliott created a second Vicetary by using her SD Programmer on a blank, inactive Humandroid body. A Humandroid can also use Humandroid SD Programmers to change their own programming, as seen when the Vicetary unit used the Chadan #5 SD Programmer to adopt the appearance and programming of Chadan #5.

SD Hackers
The SD Hackers are modified SD Programmers used with the Malcoder by HackNet to transform Humandroids into Maldroids. Unlike SD Programmers, they contain the data of extinct animals. After a Maldroid is destroyed by a Kamen Rider, the cracked SD Hacker is put into a SD Connector by Darren to extract its data. Even after being cracked, SD Hackers can be still be used to transform into a Maldroid. Certain SD Hackers can also be used with other transformation devices to transform into a Kamen Rider.
The Ark has the ability to create SD Hackers in a hidden area inside the base of HackNet, as shown with the creation of Horn's SD Hacker. However, it is currently unknown how SD Hackers were created before its reactivation by Saich, as the Ark was never seen doing so before that point. In addition, the first ten SD Hackers that HackNet used were found them after the Zero Day Event before Episode 1's event.

Design
A SD Programmer is composed of the following parts:
SD Activator - The SD Programmer's activation button. Shifts the SD Programmer into a standby state.
Program Monitor - A monitor built into the SD Programmer. It displays a graphic AniModel of the Programmer's respective animal's mechanical skeleton.

Extinct Model - A SD Hacker's version of an AniModel. They harness the power of extinct animals.
Rider Model - Shining Hopper's, Assault Wolf's, Metal Cluster Hopper's, and Rampage Gatling's display, replacing the AniModel in exchange for enhanced power.

ConnecTerminal - The Programmer's output terminal. Unfolding the ConnecTerminal allows it to connect to a transformation device' Program Port.

Rise Connector - An enhanced variant found on Metal Cluster Hopper and Rampage Gatling that has increased data communication speed without altering the size.
Final Riser - A variant of the ConnecTerminal found on the Zero-Two SD Programmer, which can transmit calculation data from Elle through ultra-high-speed communication.

Program Symbol - The SD Programmer's symbol located on the ConnecTerminal. Since it is a picture of the AniModel, the SD Programmer can be recognized even when loaded into a device.

Shining Hopper, Assault Wolf, Metal Cluster Hopper, Zero-Two, and Ark-X possess a Crest which displays the helmet of the Rider's form.

Program Cover - The outer cover. It is made out of organic composite glass made out of glass and plastic. It is lightweight, tough and resistance for the purpose of protecting the AniModel. In addition, data within the SD Programmer is further protected by a thermal insulation film.

Final Cover - The exterior of the Zero-Two SD Programmer. It uses the same material used to construct Satellite Elle, which posseses higher levels of density and strength than standard SD Programmer.

Program Hinge - The SD Programmer's lock mechanism that prevents the ConnecTerminal from being unfolded. By authorizing the SD Programmer with a transformation device, the lock is released and it is possible to open the Programmer into its Key Form.
Functionality
To activate a SD Programmer, one must push the SD Activator, causing the SD Programmer to announce its ability, or its name in the case of Maldroid SD Hacker. From this point, there are different ways to utilize the SD Programmer:
To initiate a finisher with an Case weapon, a SD Programmer is inserted unopened into the weapon's Program Port.
List of SD Programmers
Behind The Scenes
The SD Programmers are voiced by Yuri Lowenthal. The Ark-X SD Programmer is voiced by Keith David, who also voices the Ark.
Notes
These are the first collectible devices, to be based on keys.
Appearances
See Also
Community content is available under
CC-BY-SA
unless otherwise noted.