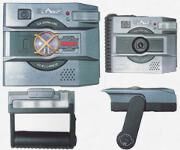 "Ready!"
―Activation announcement
Designated "SB-913C", the Chi Shot is a digital camera-like device developed by Smart Brain as a means to protect the Orphnoch King. The Chi Shot was designed for specific compatibility with the Chi Mission Memory, transforming into an energy powered knuckle-duster that Chi can use for his Grand Impact attack.
This weapon shares its design with Phi's SB-555C Phi Shot, only colored gray instead of silver.
See Also