"(5-5-5) Standing By! Complete!"
―Transformation announcement
"(5-5-5) Standing By! Error!"
―Transformation announcement when used by a non-Orphnoch
"Exceed Charge!"
―Finisher announcement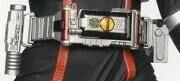 Designated "SB-555B", the Phi Driver transformation device was developed by Smart Brain as a means to protect the Orphnoch King, constructed in the shape of a belt.
The Phi Driver was designed for specific compatibility with the Phi Phone, generating the photon streams that form the Phi Armor when the Mission Memory is installed into the phone.
If the belt was removed, the armor dissolved. Along with the SB-333B Delta Driver, this belt remains intact even after Nathan's final confrontation with the Arch Orphnoch.
See Also