Quinzella is one of the villains in Power Rider Tyranitar. She is the leader of the Brotherhood Of Egregious and the daughter of Romulus.
History
To be added
Personality
To be added
Powers
To be added
Forms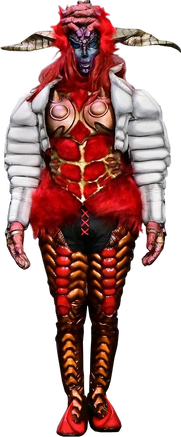 Statistics:
Height: 197.7 cm
Weight: 88.4 kg
This is the Phase 1 form of Quinzella after absorbing the power of the Kong Democapsule and most of Melissa's life force. In this form, she has acquired the genetic infomation and powers of a centipede. But, she can only use this form 5 times or she will disintegrate.
Abilities:
Transformation: Quinzella can change between her human and Creedictor forms at will.
Super Strength: Due to it being Phase 1, Quinzella is strong enough to run through various walls at a time.
Super Sense: Quinzella can ultimately signal and hunt down the target with quick movements.
Enhanced Jumping: Quinzella can jump at extrodinary heights.
Echolation: Quinzella can produce shock waves that are powerful enough to destroy buildings.
Appearances: Tyarnitar Episodes 5
Behind The Scenes
To be added
Notes
To be added
Appearances
To be added
See Also