Complete.
This series has been completed. No other edits are to be made to this page nor the pages that correspond with this series.
| | |
| --- | --- |
| | WARNING: This series contains scenes of blood and character death. Viewer discretion is advised! |
For the series' main character, Ignite, see Aiden Drakeforge.
Power Rider Tales is a Power Rider series created by Gokai-Volt. It is the second entry in the "Nexus Era". It is based on the thirty-first Kamen Rider series, Kamen Rider Saber.
The catchphrase for the series is "Only you can decide the ending to this Tale".
It replaces Power Rider Data and is followed by Power Rider Beast Surge. It is not to be confused with the Tales Of series.
Plot
Within the mythical kingdom of Dreamtopia, a sect of swordsman who were chosen to protect the mysterious book, the Book of Wisdom, a powerful tome that contains everything known to man. The swordsmen used the sacred blades and powers from stories to protect the Book and the world from evil monsters.
However, one of the swordsmen betrayed the Order and joined forces with the Darkmare Order to steal the Book and to use the Book's powers for himself. As a result, the Book disappeared and each of its pages were scattered across the world.
In the present day, a new generation of swordsmen are chosen by the sacred blades to continue the fight for Dreamtopia and to return the Book to its rightful place.
A young blacksmith apprentice called Aiden Drakeforge, gets caught into the fray when a group of monsters attack his village. Expressing his determination to protect his friend and village, Aiden is suddenly surrounded by flames, transforming him into one of the Dreamtopian knights, the long-lost Swordsman of Fire, Power Rider Ignite.
Characters
Power Riders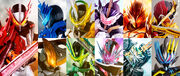 TV Show
Special-exclusive
Allies
Team Drake
4 High-Ranking Sages
Several Unnamed Swordsmen
Others
Power Riders
Power Rangers
Villains
Henchmen
Episodes
Main article: Episodes (Tales)
The episodes in this season are referred to as Manuscript.

Movies
Specials
Power Rider Tales: The Juggernaut of Earth

When Worlds Collide
Notes
to be added
See Also