Omega

250px

Omega

Gender:
Male
Series:
Super Mythos
Rider Type:
Anti-Hero (former)
Hero (current)
Affiliation:
himself (former)
Zane McQuire
Homeworld:
Earth
First Appearance:
TBA
Last Appearance:
TBA
Number of Episode
Appearances:
TBA (Super Mythos)
Full list of appearances
Actor:
TBA

Beast Guardian

Power Rider Green

Omega to be announced
Character History
Present
Personality
to be added
Powers and Abilities
to be added
Forms
Beast Guardian
Rider Satistics
Height: 200 centimeters (6 ft. 5 in.)
Weight: 97 kilograms (213.8 lbs.)
Ability Parameters:
Punching Power: 15t
Kicking Power: 30t
Maximum Jump Height: 70m
Maximum Running Speed: 100m per 5 seconds
Vision: approx. 25km
Hearing: approx. 30km
Defense: 7/10
Kino's Agito transformation. This form possesses incredible athletic and combat prowess though not as adaptable as other Agito, being capable of a single transformation.
Another Agito is armed with serrated appendages called Bio Claws that extend from his forearms and calves for increased damage. His Rider Finish is the Assault Kick which invokes the power of his Altar Force for a high-powered flying kick that strikes the target with approximately 40 tons of force, making it comparable to Agito's Shining Rider Kick in terms of raw power. He also possesses a Rider Punch. Maze 3: Gorider Forever
Though Another Agito doesn't have access to traditional weapons of his own, on one occasion, he handled G3-X's GM-01 Scorpion handgun, which demonstrates the ability to override the safety operation mechanism (though this can't be confirmed). Gills' Howl
Appearances: Super Mythos Episodes TBA

Power Rider Green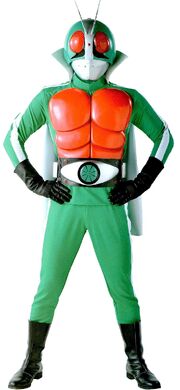 "Mido-Rider!"
―Mido-Rider's role call
Mido-Rider (ミドライダー, Midoraidā?) is the Green hero

of the hybrid Kamen Rider/Super Sentai team Kamen Sentai Gorider.
This form is exclusive to Kamen Sentai Gorider Maze 3: Gorider Forever.

Equipment
Unnamed Belt - Transformation belt for Beast Guardian
Behind the Scenes
Portrayal
to be added
Notes
to be added
Appearances
to be added
See Also