In progress
This article is currently undergoing construction, and the author promises to make an update soon or is doing so now.
For the series' main character, Zerone, see Lewis Elliott.
Kamen Rider Zerone is an adaption of Kamen Rider Zero-One. It is the first in the New Era set of seasons and the thirtieth season overall. The series premiered on September 5, 2020, joining Power Rangers Dinoric Knights

in airing after Kamen Rider: Quantum Knight's conclusion. After Dinoric Knights concluded, Zerone was joined by Power Rangers Mage Racers

on February 6, 2021. After the finale of Kamen Rider Zerone on July 24, 2021, Mage Racers will air alongside Kamen Rider Saber.
The catchphrase for the series is "Rising Past Limits."
Synopsis
23 Year Old studying zoologist Lewis Elliott, via his grandfather's will, is appointed as the new CEO of Elliott Industries, a company that specializes in artificial intelligence (AI) and build humanoid AIs known as Humandroids that have become part of everyday life. Lewis is initially uninterested, Lewis witnesses an attack orchestrated by the cyber-terrorists HackNet, whose actions sparked the creation of the anti-AI military squad, R.I.S.T. to combat the threat. Wanting to protect innocent people and his grandfather's company, Lewis becomes Kamen Rider Zerone and is thrust into a war between himself, R.I.S.T., and HackNet. Things later get more complicated when Elliott Industries' corporate rival, Moirai Enterprises, steps up and causes more problems for Lewis and his company.
Characters
Riders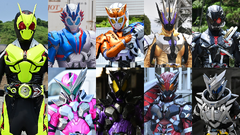 TV Show
Movie/Special-exclusive
Allies
Other
Jacob Napier

Alex Harper

Alexa Jasper
Villains
Ark Maldroids
Other
Episodes
Main article: Kamen Rider Zerone Episodes
The series is divided into 4 story arcs, much like an anime/manga series. Each arc us referred to as "Data"
Movies
Specials
Cast
Notes
Zerone's name is a combination of the numbers Zero and One.

This is also a shout out to the source material, Zero-One.

Zerone is the first Rider to be called 'Kamen Rider' as the 20 previous Riders were referred by 'Knight' after a word pertaining to their abilities.
The Zerone Riders have the most starting belts with a total of 3.