In progress
This article is currently undergoing construction, and the author promises to make an update soon or is doing so now.
For the series' main character, Saber, see Lance Blaze.
Kamen Rider Saber is an adaption of Kamen Rider Saber. It is the second season in the New Era series and the thirty-first overall. The series will premiered on September 4, 2021, joining Power Rangers Mage Racers

in airing after Kamen Rider Zerone's conclusion. After Mage Racers ended on December 18, 2021, Saber was joined by Power Rangers Gear Surge

in airing. After the finale of Kamen Rider Saber, Gear Surge will air alongside Kamen Rider Animalia.
The catchphrase for the series is "He will decide the ending of this story..."
The series motif is swords, knights and books.
Plot
Over the centuries, the legends of the world were collected within the Encyclo Tale, a book that held together not only these legends, but the very fabric of the normal world and a mythical dimension named Talestia. To defend the sacred book, the Knights of Talestia were founded, made up of swordsmen chosen by the Holy Sabers. This world then fell into chaos when a traitor joined forces with the dreaded Eada and attacked their former home, seeking to claim the power of the Encyclo Tale and rewrite history. During the battle, the pages of the Encyclo Tale were scattered across the human world and Talestia.
In present day, rising author and bookstore owner Lance Blaze becomes wrapped into the restarted war between the Knights and the Eada to gather the Encyclo Tale, which causes people and places to be lost between Talestia and the normal world. However, Lance transforms into Kamen Rider Saber, one of the legendary swordsmen and intends to prevent the Eada from acquiring the Encyclo Tale and rewriting history.
Characters
Kamen Riders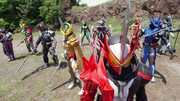 TV Show
Special-exclusive
Movie Exclusive
| | |
| --- | --- |
| Kamen Rider Beyonder | TBA |
| Kamen Rider Paragon | Jordan Stone |
Allies
Jestro's Grandfather

Shino's Mentor

4 High-Ranking Sages
Several Unnamed Swordsmen
Others
Villains
Mythical Beast
Animal
Tale
Chimera
Henchmen
Sage Lords
Episodes
Main article: Kamen Rider Saber Episodes
Movies
Specials
Cast
Notes
This is the first time a series adaption has matched the name of its source material exactly.
The special text featured prominently throughout the show (most notably in the Ride Books) is, in fact, letters of the Latin alphabet turned 90° counter-clockwise.
See Also