For the series' main heroes, Kamen Riders Anima & Malia, see T.J. Carter and Saurex.
Kamen Rider Animalia is the adaption of Kamen Rider Revice. It is the third season of the New Era series, the thirty-second overall, and serves to commemorate the 50th Anniversary of the franchise. The series premiered on September 3, 2022, joining Power Rangers Gear Surge

in airing after the finale of Kamen Rider Saber. After Gear Surge's conclusion, the series was joined in airing by Power Rangers Taro Squad

.
The series motif is animals, stamps and demons.
Plot
Within every human is a creature known as an Innemon, beings worshiped by the dangerous Cult of Phisto who use devices known as Beastamps to release them into the world. Their opposition comes in the form of T.J. Carter, a young man who made a deal with Saurex, his own Innemon, in order to fight as a Kamen Rider to protect the city and his family from others' Innemons.
Characters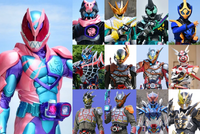 Kamen Riders
TV Show
Movie-exclusive
Debatable Riders
TV Show
Movie-exclusive
Allies
Carter Family
Others
Kamen Rider
Villains
Contract Holders
Kristina May

Stephen Fischer
SOAR
Eidolons
Himiko Eidolon

Khufu Eidolon

Edison Eidolon

Leonidas Eidolon
Episodes
Main article: Kamen Rider Animalia Episodes
Movies
Specials
Cast
Notes
See Also

Kamen Rider Animalia
Kamen Riders
Current Riders: T.J. Carter - Saurex - Jacob Carter - Tasha Carter - Colin Burke - Travis Carter/Zebul - Lili Theodore
Former Riders: Aidan Morgan - Skade - Thanatos - Ryder Marks
Movie-exclusive: Kamen Rider Beyonder (James & Brian Douglas)
Clone Riders: Lance Blaze (

One

,

V1

,

Accel

), Noel Knight (

ZO

,

Mighty

,

Spade

), Luceo (

Evolve

,

Action

, Zerone), Saurex (

RX

,

Quasar

,

Prophet

), Jacob Carter (

Chiro

,

Meteor

,

Long

), Tasha Carter (

Space

,

Date

,

Amazon

)
Gear
Drivers
Emboss Wildriver - Dual Unitedriver - Cage Expandriver - Aranea Driver - Beelze Driver - Hive Apidriver - Aerondriver
Beastamp-related
Beastamps - Beastamp Holder - Beastamp Carrier
Weapons
Wild Blastchopper - Cell Blaster - Wild Smashammer - Cracking Rex Shield - Roller Beastamp - Nocturn Saber - Diurn Blaster - Najathi (Peacock, Turtle, Shoebill) - Mole Wildrill - Stinger Kunai
Vehicles
Saurex (Ptera, Jackal)
Allies
Eon Museum: Makayla Carter - Henry Lewis - Russel Beale
Demons:
Najathi
Legend Riders: Henry Wells - Lance Blaze - Noel Knight - Alistair Bolton - Caesar Landon - Shino Valia - Jestro - Myla - Luceo - Rita Emerson - Tyler Emerson
Others:
Ryder Marks (2072)
Genome X
Director: Vance Watts
Commanders: John Xavier - "John Xavier" - Aidan Morgan
Squad Leaders: Jacob Carter - Henry Ashton
Others: Ryder Marks - Diana Murray
Genesis
Leader: Brittany Marks
Burke Family: Colin Burke - Gregory Burke - Eliza Burke
Other Members: Tasha Carter - Lili Theodore - Russel Beale
DRE Division
Director:

Gabriel Walsh
Researchers: Jonathan Marks
Military: Henry Lewis - Vance Watts
Others: Jackson Ritter
Cult of Phisto
Currently: Phisto - Vance Watts
Formerly: Berus - Spencer Graham - William Spencer - Chameleon Innemon - Olivia Sawyer - Thanatos - Lilith
Innemons
Tyranno Innemon - Mammoth Innemon - Mantis Innemon - Megalo Innemon - Gorilla Innemon - Lion Innemon - Squid Innemon - Wolf Innemon - Kangaroo Innemon - Cheetah Innemon - Brachio Innemon - Planarian Innemon - Chameleon Innemon - Smilodon Innemon - Queen Bee Innemon - Hammerhead Innemon - Elephant Innemon - Anomalocaris Innemon - Rafflesia Innemon
Footsoldiers: Phistoids
Phistians: Normal - Evolved - Omega
Others:
Phisterror
Innemon Contract Holders
Adam Dixon - Aidan Morgan - Ollie Hunt - Daniel Young - Layla Quinn - Leon Taylor - William Spencer - Phineas Yaeger - Scammer Group - Spencer Graham - Sophia Combs -

Kristina May

-

Stephen Fischer
Phistian Hosts
Unnamed Excavator - Unnamed Cult of Phisto Follower - Javon Mosley - Kayla Avery - Olivia Sawyer - Unnamed man - Unnamed child
SOAR
Demolon
Eidolon
Himiko Eidolon

-

Khufu Eidolon

-

Edison Eidolon

-

Leonidas Eidolon
Demon Rider Corps
Soar Rider One - Soar Rider Two - Venom Knight - Eternal Knight - Sorcerer Knight - Duke Knight - Masked Rider Four - Mask Knight
Others
SOAR Executive
View • Edit