Kaijitsu Rider
(

カイジツライダー

Kaijitsu Raidā

?

)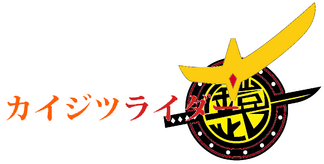 is the 32th season of GENERATION series. This season will be dual-side episodes and final event of Post-Samuel's Quest about Samuel's origins. However, the final season was not over yet because Monarchdra Ibves say that final season could be to the movie after the final episode. This will be next 33th season of new series called Nexus series (the post-GENERATION series) and named the season called 
Kaijitsu Rider: Burst Slash
(

カイジツウライダー:バーストスラッシュ

Kaijitsu Raidā: Bāsuto Surasshu

?

)
. The new 34th season of Nexus series called
Kaijitsu Rider: Gourmet Burst Slash
(

カイジツライダー:グルメバーストスラッシュ

Kaijitsu Raidā: Gurume Bāsuto Surasshu

?

)
 The motif was fruits and locks during in season 1 and cards in season 2 and season 3 through from fruits and locks.
Plot
After time during event of Samuraiger,
A former Daizen Hero Mebius who his parents were "killed" by Sadako then become the second hero called Pitaya Rider to avenge his parents' supposedly death.
The daughter of Samuel "Nakaoka" and Cereza/Bayonetta because they got married before they disappeared after he was alone and saying that she was half-sister of Dillain Joo.
After the final episode,
Characters
| | |
| --- | --- |
| Orange Blast | Agido Joo |
| Gold Lemon | Ichigo Inui (a son of Takumi Inui and Love Momozono) |
| Armored Grape | Uchty Matoi (a son of Utsusemimaru and Ryuko Matoi) |
Beat Riders
Red Orange
Orange Deluxe
Agido Joo (later, defected to Beast Riders since Ichigo joined the group)
Green Lime
Lime Suite
Shitoron
Blueberry
Blueberry Tropical
Raquel
New Grape
Inori Tsubomiya
Elite Force Riders
| | |
| --- | --- |
| Pitaya | Asuka Marvelous |
| Coconut | Nozomu Itoshiki |
| Pink Lemon | Neriza Joo |
Riders' Allies
| | |
| --- | --- |
| Senketsu | Ryuko Matoi |
| Kibosetsu (formerly) | Samuel "Naokaoka" Joo (Singular Rider Shin is the true form of Singular Rider S within the true power of Kibosetsu, betrayed when his true past was revealed) |
| | | |
| --- | --- | --- |
| Singular Rider | Samuel "Nakaoka" Joo (after betrayed when his true past was revealed, but he revealed that he need his journey to Gourmet World) | |
| War Rider | Ciel Phantomhive | |
| Game Rider | Tsukihito Amanuma | |
| Sniper Rider | Kaname Hagiri | |
| Dual Rider | Earl Alois Trancy (Revealed he was survived when his fake death) | |
Allies
Roho Joo
Melk the Second
Wise God Torin
Kasuza (Samuel's inner)
Madaio (a master of Generation Beasts and mentor of Kurama)
Doctor Ulshade
Captain Marvelous
Asuna
Chibibon/Bondos
Villains
The Crews
Shadow the Knight (originally as his dark energy-like being before seperating with Marine Lady Makuria and the strange mist appeared on Agido and his friends; however, he was revealed that he was possessed by the evil spiritual being is Samuel Nakaoka's old first enemy Reijinju)
Eustace (co-leader)
Dr. Mikoto (co-leader)
Darkros (co-leader)
Luika (Samuel's Yang)
Commander Zog
Professor Vice
Reijinju (Samuel Nakaoka's old first nemesis that both of them were supposedly fused into one and smashed into the ground, revealed they were inside of the Lake of the Auos before fusion, they were now seperated as she know Samuel Nakaoka's resting place)
Horen Faction
Other Villains
Arsenals
Morphing Devices
Generation Drivers
KaijitsuDriver - A transformation belt that can transform into Rider form or/and do summoned the Ibves for battle. Agido's KaijitsuDriver was destroyed by the Monarch Queen Qualzel.
SlashLocker - A transformation driver that can place to KaijitsuDriver and transform into secondary Rider form as a upgrades
GourmeDriver - A transformation belt that can transform into Rider form with the Lock-Seeds, but restrained their upgrade forms. Like KaijitsuDriver, it can do summoned Ibves including Gourmet Beasts or Titan Beasts for battle.
Power-Up Devices
Ganbarin LockSeed - A transformation LockSeed used by Drafutan Ibves to activate it.
Gigasevolver - A transformation gun used by Samuel within the Kibogetsu form to transform into his upgraded Singular Rider..
GourmeSeed - A transformation Lockseed-like wristwatch to evolve Red Orange Arms into first Super Form; Deluxe's Ogiri Arms
GourmeKey - A transformation Lockseed-like key to evolve into Red Orange Arms into second Super Form; Deluxe Joshoju Arms.
Agido's Lock-Seeds
Red Orange LockSeed - A primary LockSeed used by Agido to transform into Orang Rider.
Beast Sword Gun LockSeed - A powered up form of Red Orange LockSeed.
Agido's Gourmet Beasts
Episodes
Ibves Games
Burst Slash
Gourmet Invasion
Movies
Ibves Games
Burst Slash
Gourmet Burst Slash
Triva
This season where used to continues to XY Saga.
This final episode will be end of Samuel "Nakaoka" because he was permanently "died". However, he was revealed that he was possessed by the cursed memory named Blacken Sword Desom.